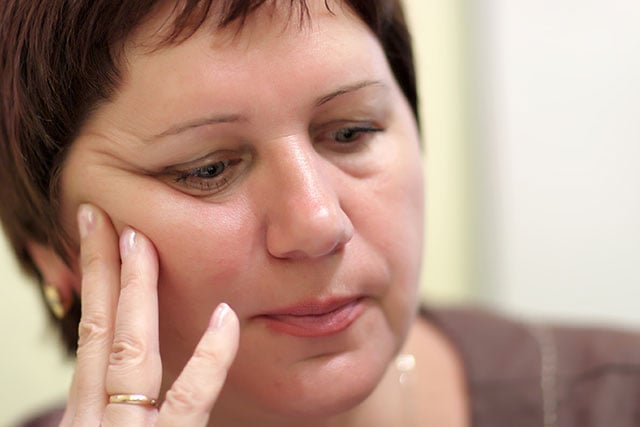 When Garry Wright moved his beloved wife of more than 30 years into Villa at Terracina Grand, a memory care community in Naples, Florida, he never imagined how challenging it would be. "We were as close as any two people could be," he says. "I think anybody that puts a loved one in a memory care community, regardless of how nice it is, feels guilty."
Garry's not the only one. Caregiver guilt is one of the most common and natural emotions you can experience when moving a loved one into a senior living community like memory care, assisted living, or even independent living in some cases. "There's no school for this," he says. "Nobody knows how to do this. You just do what you feel is right for you and your loved one."
Although you might not be able to avoid feeling guilty, there are ways to cope with these emotions when they arise.
Identify Why You're Feeling Guilty
First, it's important to identify the reasons you're feeling guilty.
Lindsey Edwards, Director of Sales and Marketing at The Palms of Largo in Largo, Florida, says many of the family members she works with end up feeling some guilt about the decision to move their loved one to senior living. "It all depends on the resident's mindset, as well," she says. "There are some that are excited to move in."
Lindsey says some of the most common concerns include feeling like they abandoned their loved one, took away their independence, could have done more to keep them at home longer, or — on the other hand — should have moved them sooner.
Attend a Support Group Meeting
When dealing with difficult situations, having someone who shares similar experiences and understands what you're going through can be a huge help. Lindsey recommends joining a support group, which can be your lifeline and remind you that you are not in this alone. There are a variety of support groups available from specific meetings for those with loved ones in memory care or managing Parkinson's to more general groups that cover a variety of topics.
Attending a support group can provide a non-judgmental and confidential environment for you to discuss issues and find solutions to what you're experiencing. Margie Ratcliff, Director of Volunteer Services at The Palms of Largo, who leads a caregiver support group, says group members have resources that they will share with each other. "It opens their eyes to things that they were not aware of," she says.
Your support group can also just be a place to take a break. Support groups typically have a facilitator that leads the conversation and, sometimes, there is even a guest speaker who presents to the group.
If you're hesitant about joining a group, attend at least one meeting. If it doesn't feel like a good fit, there's no obligation to return. To find a support group, speak with your local senior living community, senior or community center, or look online.
Get Familiar With Your Loved One's New Community
Another recommendation is to spend as much time as possible at your loved one's new home prior to the move. We understand it can be difficult moving your loved one out of the home they've known for years. Instead of wonder what type of food is served, what activities are available, and how friendly the staff is, why not visit to find out for yourself. Attend a few of the community's events, stay for a meal, and get to know residents. "The more time you spend in the community before moving your loved one in, the more comfortable you and your loved one are going to be," Lindsey says.
Make Frequent Visits
Visiting frequently can ease those feelings, and if you're unable to visit as often as you'd like, pick up the phone and give your loved one a call. Daily communication can help maintain a sense of closeness even if you're not living in the same place.
The transition to senior living doesn't have to be a negative one. In many cases, Lindsey says, moving your loved one to a senior community can improve their quality of life. For example, Macy, one of the residents at Regal Palms, an independent living, assisted living and memory care community apart of The Palms of Largo in Largo, Florida, was excited to move in, but her family felt very guilty. She had to convince her children to let her move in. She wanted the help, the meals, the network of people. Remember to talk with your loved one and find out what they want. You might learn that they would prefer the activities and company that a senior living community can offer.
"She's such a social person. She moved in and made a ton of friends. She participated in all of our activities. Her children contacted us saying they can't get a hold of her because she's always busy having too much fun," Lindsey says. "They felt horrible that they were trying to prevent her from moving in. Now, they couldn't be more thrilled that their mom is thriving in her senior community."