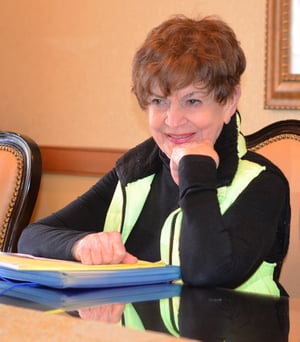 It all started with an extended conversation between Gretta Freeman and her 18-year-old granddaughter, Jenny. She was about to leave home for college and filled with the excitement of new experiences, friends, and learning. She was also uncertain about leaving behind friends and family, meeting the challenges of a higher education, and "about a million and ten thoughts and emotions I couldn't begin to articulate," as she later wrote. But the conversations she had with her grandma Gretta put those concerns to rest. As Jenny put it, "by talking through things with grandma, I went to college more relaxed, more focused on what I wanted, and above all, more confident that I would be OK."
That single conversation started a 20-year family tradition known as Grandma's Roundtable. Now Gretta Freeman is taking her successful model into the larger community. Recently, Gretta facilitated pilot projects at The Commons on Marice and Chandler Place, senior living communities in Minnesota that are developed and managed by The Goodman Group.
Conversations Without Judgement
Grandma's Roundtable brings together seniors and teens from local high schools to discuss the same kinds of questions Jenny had in that first conversation. "Grandma's Roundtable boils down to conversations without judgment," Gretta says.
The roundtable bridges the generation gap. Once the senior and young adult build trust in their relationship, no topic is off limits. They find tremendous similarities among their differences.
Gretta points out, "the young people in today's world can face so many problems. They are looking for some stability with people they can trust. They want to talk about their problems without any judgment. Just listening."
The seniors love the interactions and love to share their stories. The young adults, for their part, are mesmerized by those stories that tell of a different generation. Still, it turns out the stories aren't always that different, despite the age differences. "We were once 17. We were once 16. I skipped school once," one resident chuckled.
The Importance of Friendship for Seniors
The benefits of intergenerational relationships even go beyond the friendships that are built. It is also a chance for seniors to connect with one another.
Seniors can face many losses as they age: friends, their home, and the ability to do some of the things they used to. But with those losses comes the opportunity to make new friends. A big part of the roundtable is that it connects people. And connecting once makes it easier to connect in other situations in the future.
Gretta says of the seniors, "they want to have a relationship. They're anxious to know what's going on in the world, and they want to understand it, so this [particular relationship] is very important to them."
Living with Purpose
Not only does the roundtable offer the bond of friendship, it opens the door for seniors to express their life's purpose. "Looking forward to something every day," Gretta says. "I can't tell you how important that is." For seniors who may have lost connection with that daily purpose, the roundtable can inspire and help them find other ways of expressing their engagement in life. Gretta advises, "Let people know you care. Be a daymaker. Make their day and they'll make yours."