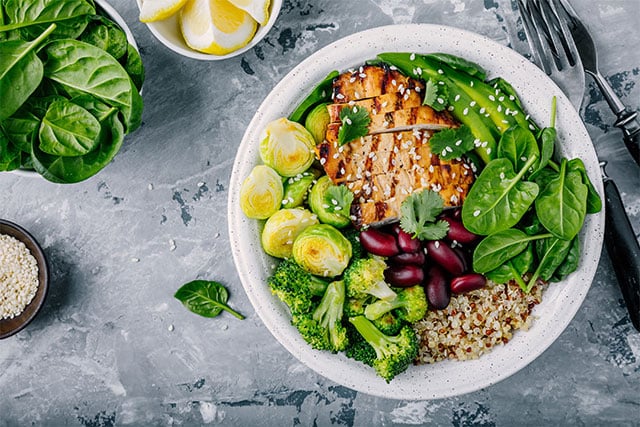 Nutritionists will tell you the foods you eat have a direct impact on your health and well-being. This becomes even more important as we age, especially for those managing chronic health conditions. The vast majority of Americans over age 65 have at least one chronic health condition, around 85%, according to the National Institute on Aging. These conditions include heart disease, stroke, cancer, diabetes, and Alzheimer's.
While proper nutrition is essential, some foods are simply not as agreeable with our taste buds and if we don't like some type of food, chances are we won't eat it. This is as true for those under the age of 65 as it is for those who are older. However, it means many seniors need more deliberate meal planning to get the nutrients they need to maintain their physical and mental health.
Preference isn't the only issue
When maintaining a healthy diet, flavorful food often feels compromised. Aging can impact our sense of taste and appetite. Facial muscles may atrophy and make chewing more difficult. Seniors with arthritis may have difficulty using utensils, especially knives for cutting.
These contributing factors can further dissuade a person's desire to eat or negatively impact what they choose to eat, resulting in unwanted weight loss and exacerbating chronic conditions.
Balancing needs with personal choices
In a senior living community, three meals are the one constant every day, notes Mark H., national director of culinary operations at The Goodman Group. In order to deliver Platinum Service® to every resident in a variety of senior living settings, he draws on his extensive professional experience in hotel and restaurant dining.
We asked Mark how he approaches nutrition for seniors with chronic health conditions. His tips can easily be followed at home by any senior or caregiver.
First and foremost, focus on the person, he advises.
The word "diet" has a negative connotation–it's all about what you are not allowed to eat. No one responds well to that, especially if the foods you love are off-limits, shared Mark. Instead of using a rigid list of dos and don'ts, he uses a personalized focus diet. It's based on the clinical aspects of the specific condition–critical nutritional requirements and potentially harmful foods. Mark's team works with each individual to tailor menus that are nutritionally suitable but also match that person's preferred flavor profiles.
Here are some examples.
Kidney disease
Instead of "renal diet," think "renal focus diet." Consider these:
What do you really like to eat?

How often do you eat those foods?

Do you experience any reactions afterward?
Let's say you really love French fries, something not typically recommended for individuals with kidney disease. With a personalized choice approach, if your labs look good then maybe a serving of French fries on Friday will be okay.
Diabetes
We tell people with diabetes their food must be strictly sugar-free and to avoid high fat. Some diabetics rebel by hiding candy or other disallowed foods and eating them on the sly, which can become problematic.
But "diabetic" refers to a person, not a diet. By replacing "never" with "sometimes," personalized choice diets promote honesty as well as better nutrition. If a half portion of key lime pie satisfies your sweet tooth, then you won't be tempted to hide your disallowed foods.
What matters is the total nutrients available on the plate over the course of a day, a week, and so on. Picture the plate instead of each food item and think about portion control. Increase protein portions, then the occasional small serving of non-allowed things can be acceptable.
Heart disease
The cardiovascular diet has a nutritional standard that dictates all items be low in fat, sodium, and sugar. To enable residents to enjoy a flavorful regular diet instead, Mark's team uses a variety of seasoning blends for foods. Many of the seasonings feature ethnic or regional flavor profiles.
This simple change has been very successful. Residents are satisfied without incurring negative lab results.
Fortified foods
Serving fortified foods is another way to ensure that seniors with Gastrointestinal (GI) disorders, cancer, or difficulty swallowing following a stroke get adequate nutrition. For example, milk can add protein and calories to a recipe. However, even this requires personalization. With cancer patients, nutritional requirements depend on the type of cancer and disease stage.
Mark's philosophy is that we are only as good as our last meal and believes every individual deserves to eat nutritional yet tasty food. Personalized diets allow residents to get enjoyment out of the foods they consume while still being cognizant of their chronic health conditions.