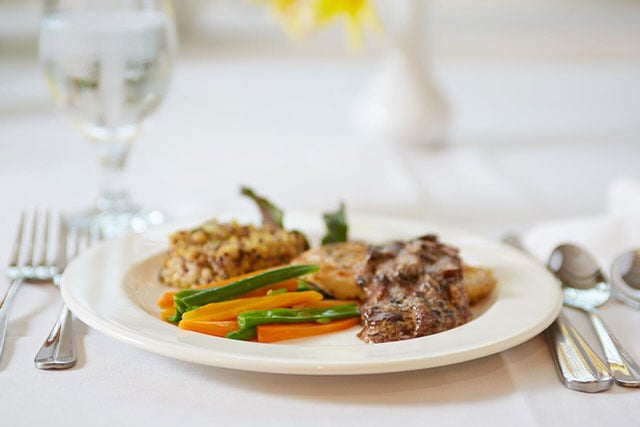 Will the food be any good?
That's what every senior wants to know if they are considering a move to a senior living community. And rightfully so! Some residents enjoy up to three meals a day in the community's dining room, so naturally, meals are a big focus.
One of the great delights of senior living is that you no longer have to shop for meals or cook them yourself. That's always true for assisted living, but in many communities managed by The Goodman Group, independent living residents can also take advantage of meal plans that get them out of the kitchen and into the social environment of the dining room.
So, Yes, Food Is Important
It's a matter of psychology, according to Mark Holmes, national director of culinary operations at The Goodman Group. Food should be interesting and varied. So, for example, what would be the best way to introduce South American food into a meat-and-potatoes world? His team listens and learns from resident feedback.
"Our job is not just to put food on plates but to think about how the person views that plate physically and mentally. We know that we're only as good as the last meal we served." He laughs, but he's not kidding. Residents, he says, are his repeat customers. It's unique, something you don't see in society as a whole; it's a level of care that contributes to the well-being of the entire community. And it's fascinating to watch the dynamics at work.
A Great Dining Experience Is About More Than Food
Dining in a senior living community is both a social and nutritional experience. In Mark's experience, residents don't want a dull atmosphere. "We purposely hire young people—college and high school students—to work the dinner shift," he explains, "because they bring a different energy to the dining experience."
At breakfast and lunch, residents have a chance to talk about their grandbabies and so on with more mature team members. But at dinner, they have an opportunity to talk with individuals from high school or college about school, their siblings and other family members. It's uplifting, especially for those who miss being with their own families. Residents take a big interest in the students' personal lives.
Mark believes that blending a range of ages helps keep residents mentally fresh and feeling fully connected.
Strong Relationships Start in the Dining Room
There isn't assigned seating, so residents are free to move around and change seating companions. Conversations over a meal are one way residents get to know one another, discovering common points of interest they can pursue in between meals.
But they can also build intergenerational relationships with two-way socialization that benefits the teens, too. As the students work in the dining room, they form bonds with the residents and learn how to be around older adults. They serve with "yes, sir/yes, ma'am" respect, but it can quickly become more personal when a resident says, "Call me Birdie. That's what my grandkids call me."
The familial environment breaks down barriers on both sides, sometimes with lasting results. Mark mentions one resident whose wife had passed away. His wife had owned a valuable stock, and thanks to the man's interactions with students at dinner, he decided to donate the stock toward funding nursing school to encourage and support youth choosing a career to help others.
The social life in the dining room is an adventure, an exploration of food and relationships, and it all contributes to a great dining experience.