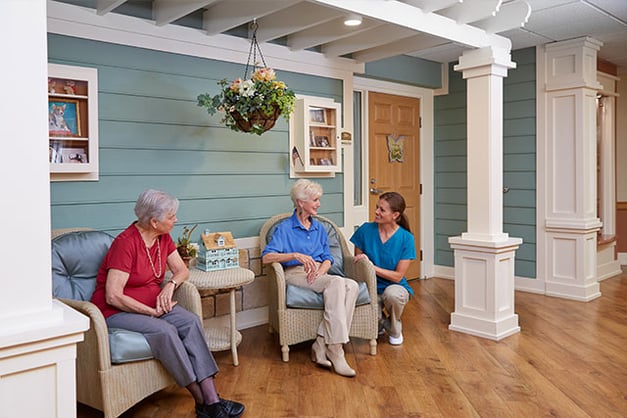 "When you are taking care of someone with Alzheimer's, at some point in time, you know little things are going to start getting worse," says Garry, the husband of a memory care resident at Villa at Terracina, a memory care community in Naples, Florida. "For me, one of those was the first time she wandered. So, I had to make that decision, the hardest decision of my life."
While wandering is just one example, there are many factors that determine when to begin the search for a memory care community. When making the important decision of where to place a loved one, you'll want to visit different communities to determine which are the best candidates for your situation.
Once you have a list of top choices — three to five is recommended, it can help to have a standard set of questions that you ask at each of the locations. Take the list with you and make notes during your visits. This will give you a foundation for comparing your options based on the same criteria.
Questions to Ask
Do you offer care for early, mid- or advanced stages of memory loss?

What is the patient-to-staff ratio? How much personalized attention can a resident expect to get?

What type of training does the staff have — not only the nursing staff but aides as well?

What staff is on-site overnight?

How is the community secured?

Are there special services available like a barber or beauty shop?

Is physical or occupational therapy available if needed?

What are the meal options? Are there provisions for special dietary requests (kosher or vegetarian, for example) or for medically-prescribed diets?

What housekeeping and laundry services are available, and how often are they provided?

What social, entertainment, and recreational activities are offered?

Are there specific groupings of residents — for example, by age, gender, or cognitive level?

Are there specific visiting hours or rules?

How often does the staff communicate with the family about resident's care? Who on the staff is responsible for that communication, and what form does it take (phone, email, in-person care meetings)?

What is included in the base costs and what services are a la carte?