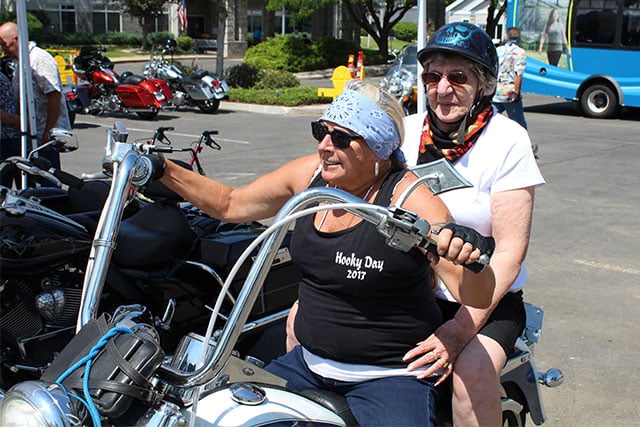 Even if you're not a biker, chances are you've heard of Sturgis, SD, home to one of the world's largest motorcycle rallies that attracts hundreds of thousands of visitors each year. Of course, an interstate road trip isn't always a realistic option for many residents at communities managed by The Goodman Group – so The Village Health & Rehabilitation in Missoula, MT, started a tradition that stirs excitement among residents and the greater community alike. It's called Mini Sturgis.
The tradition started in the parking lot of The Village Senior Residence, their neighboring community, 12 years ago and has been a smashing success since the very start. Each year, the Christian Motorcycle Association brings a group of its bikers and a fleet of motorcycles to the community, offering up joy rides to residents.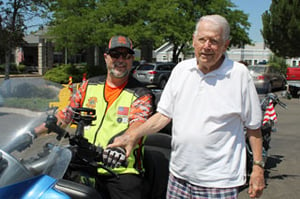 "The look on their faces pretty much says it all," laughed Robert R., life enrichment director at The Village Health & Rehabilitation, who's helped coordinate Mini Sturgis for the past decade.
Meaningful Memories
Beyond getting the residents active, the event is great for lifting spirits. Robert says each year at Mini Sturgis, he witnesses breakthroughs for residents. Some who are typically more reserved are caught smiling ear-to-ear; others are taking the first motorcycle cruise of their life around the block.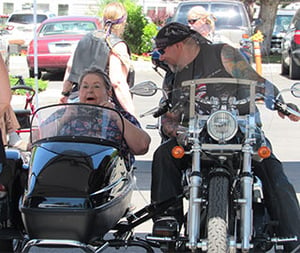 "They are really grateful. Some say it's the best time of the year for them," said Robert.
The event happens once every summer, rain or shine, in line with the official Sturgis Motorcycle Rally. Unfortunately, due to recent coronavirus concerns, it's been put on hold this year until they can come up with a safe way to celebrate – but staff at The Village Senior Residence and The Village Health & Rehabilitation assure Mini Sturgis' return.
"If it were possible to do it this year, it would be happening. And as soon as we can do it, we will. It will continue!" said Jessica.
A Tradition for the Whole Family
Robert says it's the highlight of his year watching residents light up with excitement and adrenaline as they hop on the back of a Harley. Like Grandma Olson, a 106-year-old resident who fearlessly went for a spin at Mini Sturgis last year.
"She said, 'Make sure you get my picture, I gotta send it to my grandson!'" Robert laughed, recalling how proud residents like Grandma Olson have been of their experiences. "They really are proud to show their grandkids that they can still get on a motorcycle."
Mini Sturgis attracts roughly 600 guests each year, and among the crowd are many family members of residents and staff, joining the fun from the sidelines.
"I'm a mom of four and I always bring my kids and my kids really enjoy interacting with the residents," said Jessica W., a member of the life enrichment team at The Village Senior Residence.
Though centered around a motorcycle rally theme, Mini Sturgis is packed with a variety of entertainment and fun activities. From live music and face paintings to bandana give-aways, food fresh off the grill, and more, it's really quite the celebration. Each year the Blue Collar Band puts on a show under a big tent in the parking lot, another major highlight for residents.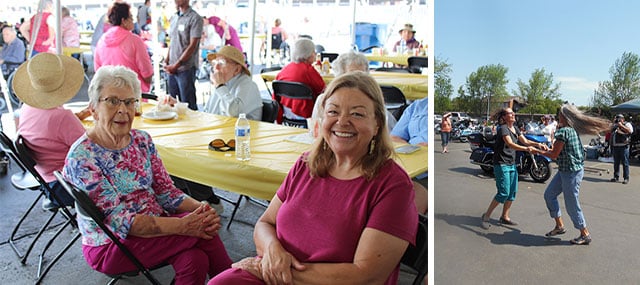 "You see some of these 80-year-old ladies, some even in their wheelchairs, getting up and dancing!" said Robert.