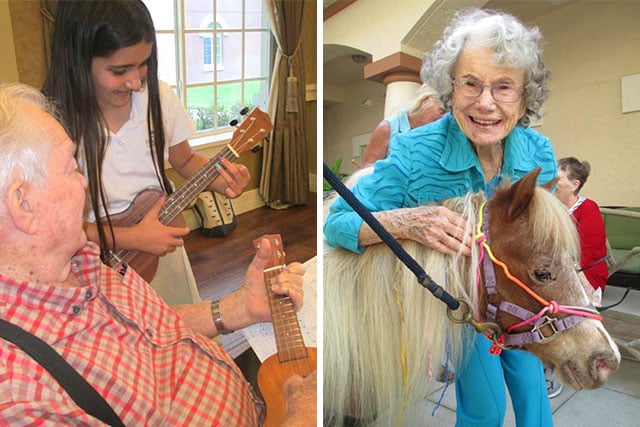 Oftentimes, when people think of senior activities, their mind goes right to bingo. While this certainly is a fun activity, the idea that it's the only social activity that seniors are involved in is an outdated stereotype that bears little resemblance to the many activities available in today's senior living communities.
Most communities offer a range of options that enrich residents' lives and positively impact their health. Whether a resident is highly outgoing and social or more introverted, there's always something to participate in.
At communities managed by The Goodman Group, we provide familiar activities—arts and crafts, for example—and yes, even bingo! We also focus on offering activities that aren't typical or standard. Here are just a few of the unique programs and activities that residents enjoy.
The Ukulele Club
The ukulele club at Terracina Grand in Naples, FL, takes their musical group seriously—while having a ton of fun. Inspired by one of the residents, the group meets twice a month with practice sessions in between. You can read more about this dynamic group here.
Intergenerational Play
They're not just playing around at The Inn on Westport in Sioux Falls, SD—they're producing plays in partnership with the Missoula Children's Theater. Seniors act alongside kids ranging in age from kindergarten to senior high. Along the way, deep, intergenerational friendships are formed. Read more about this amazing program here.
FIT FUNCTIONAL FITNESS®
FIT Functional Fitness® is a progressive, individualized fitness program that emphasizes core strength and balance. Most importantly, it is an individualized, "do what you can'' program that helps seniors stay healthy and in touch with their bodies. The program was developed by The Goodman Group, and is available to residents at all of our managed senior living and health care communities. Watch a video to learn more about it here.
Spiritual Care
Having a spiritual connection is part of a full, purposeful life for many seniors. At communities managed by The Goodman Group, we take the time to address residents' spiritual health as well as their physical and emotional health. As Cathy N., director of spiritual care puts it, "We begin to assess the condition of a resident's spirit within the first few days that they come to one of our managed communities." Spiritual connections are unique to each person, so the spiritual care team finds the spiritual component that works best for each resident. You can learn more about our spiritual care program here.
Truckin'
Okay, this definitely isn't your everyday senior activity! But then, Louise isn't your everyday senior. A resident at Chandler Place in St. Anthony, MN, resident Louise, wanted to fulfill a lifelong dream of driving an 18-wheeler. With support from the team members and residents, Louise realized her dream on her 92nd birthday. Here's more about Louise and the unique wish her senior community helped her fulfill.
Pet Therapy
The benefits of owning an animal as well as the benefits of animal therapy are well known. Regal Palms in Largo, FL is one of our communities that offers a popular pet therapy program. Twice a month, a group of Golden Retrievers visits the community and has done so for years. In addition, a pair of Dancing Maltese visit monthly. There are even robotic pets for residents to interact with. "The cat purrs. The dog barks. And the residents love them," Life Enrichment Director Tammy B. says. Here's more on these fun and therapeutic programs.
ATTENTION TO Veterans
Many of the 16 million men and women who served in WWII and the 2.7 million who served in Vietnam now reside in senior living communities. At communities managed by The Goodman Group, we're committed to honoring our veteran residents with unique programs.
Our Valiant Veterans® program is a perfect example. Tommy, a veteran resident at Terracina Grand in Naples, FL, helped launch Valiant Veterans and now leads events for veterans, their spouses, family members, and friends. It's a role that taps into Tommy's natural leadership abilities and has connected him to the community. When asked about his retirement years Tommy says, "Are my retirement years beautiful? Absolutely. Best years of my life."
Communities managed by The Goodman Group are grounded in building community and creating an engaging life for those who choose to live within it. These activities are just some of the many programs that residents at The Goodman Group's managed communities can choose from to enrich their lives and, like Tommy, make their retirement years among the best of their lives.