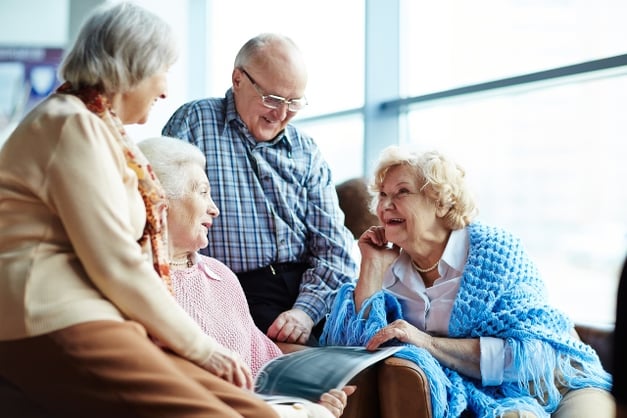 The term 'armchair travel' has been around for quite a while. Historically, it referenced providing a travel experience to older adults or individuals living with limited mobility. In today's world, especially throughout the COVID-19 pandemic, the term has grown to encompass a far larger audience. Armchair travel is all about discovering the world in the comfort of your own space – or armchair for that matter.
While actually going somewhere may no longer be possible for a variety of reasons, armchair travel is an excellent alternative to real travel, especially for seniors who love traveling and miss the experience of going abroad. Kris C., a life enrichment team member from The Commons on Marice, a senior living community managed by The Goodman Group, located in Eagan, MN, has been leading residents on bi-monthly travels for the past 10 years.
Residents who are well-traveled – or even those who have never traveled before – enjoy getting together to learn and experience a new culture. Kris leads the group through a highly educational presentation on the selected location before letting the residents guide the 'journey' for themselves.
THE BEST OF TRAVEL: EDUCATION, FOOD, AND MEMORIES
"We provide unique food from the designated location for the residents to try," says Kris. "We also encourage those who have visited the destination to bring anything that they still might have with them from that experience." Before each program, team members distribute travel pamphlets throughout the community as a way to invoke excitement about that month's destination.
On the day of their 'trip', residents bring pictures, clothing, artifacts, and stories of the highlighted location to share with the rest of the group. The residents love sharing stories and eating new foods, which keeps them excited to come back for more armchair adventures.
During a recent armchair travel day, the residents learned about South Korea, and a resident brought a silk scarf to show the group. She had been recently widowed, and the scarf had been a gift from her husband. Kris recalls, "Her husband had given her the silk scarf when he returned from deployment in South Korea. While deployed, he wrote to her three times a week, and she had kept each and every letter."
After the war, the two were married and shared their lives together. Years later, when the resident's vision had begun to fade, her husband read to her all of the letters he had once written. "The two decided to burn the letters together before his passing," Kris said, "as a way to keep their love immortalized between them." The resident's silk scarf symbolized that time and place and brought back many memories.
"It's amazing the experiences we hear from our residents," said Kris. "I hear heartfelt stories like this all the time during these sessions."
ADVENTURES TOGETHER, EVEN WHEN DISTANCED
Armchair travel not only allows individuals to revisit past memories, some even share these new travel stories with their family members and loved ones. "One resident keeps her family involved with her armchair travel even if they can't visit her in person," said Kris. "She holds on to each and every pamphlet after attending the program and enjoys chatting with her well-traveled children about what she learned and liked most about the destination. It allows her to remain connected with them."
During the pandemic, Kris and her team found ways to use technology to still allow residents to 'travel the world'. The Commons on Marice, like many other communities, pivoted from having in-person events and instead took advantage of their in-room, closed-circuit televisions. Kris connected her laptop to the TV system and presented the travel destination to the residents within their rooms. The residents could still join a group call line to talk with one another and share stories and memories from their past.
On the morning of the event, team members delivered food and travel pamphlets to the residents' doors. "It was different," Kris said, "but residents still enjoyed it, regardless of the modifications."
There are endless opportunities to stimulate our minds and improve our mood and overall well-being, armchair travel is just one of them! Whether you pick a domestic destination or something more exotic, there is always something to be learned about the world around us. From those who are experienced travelers to seniors who have liked staying closer to home, this group serves as an invaluable opportunity to share memories with one another while making new ones together.