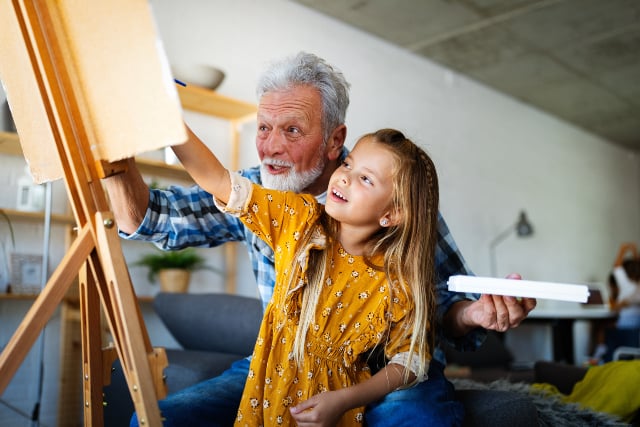 We always encourage older adults and their families to seize opportunities to enjoy the great outdoors whenever possible. However, for a variety of reasons like the weather, mobility limitations, or health concerns, getting outside isn't always an option during the hottest and coldest times of the year.
Fortunately, many activities exist to keep you entertained within the comfort of your home. We've put together suggestions to inspire you and get you ready for the next day of indoor fun -- from a heartfelt painting to the best board games.
Embrace Your Inner Picasso
Round up your paints, crayons, markers, colored pencils, and a blank canvas or piece of paper, and let your creative spirit move you! Choose a subject matter you love that makes you think of your favorite time of year, a favorite place, or a beloved person. Remember to have fun, and don't worry about rendering things perfectly. In fact, Picasso was famous for exploring new ways to represent everyday images in unexpected ways -- like through using only squares or circles or keeping his palette to one single color to capture a mood.
Decorate Something Delicious
Preparing snacks makes for a notable indoor activity because you get to enjoy them twice -- once while you're making them and again when you're eating them! If you have access to an oven, try baking cupcakes or bars, and then decorating them with frosting, sprinkles, or your favorite candies. If it's too hot for an oven, try decorating ice cream sundaes instead.
If you're looking for a healthier option, try assembling fruit and yogurt parfaits. In addition to being delicious and nutritious, yogurt and fruits like bananas and blueberries improve your gut health, which can also boost your overall mood and feelings of wellbeing.
Board Games, Anyone?
Never is the expression 'times flies when you're having fun' more true than when you're gathered around a good old-fashioned board game. Some much-beloved classics include Clue, Candy Land, Monopoly, Battleship, and Scrabble. For something newer you might try several rounds of Bananagrams, explore the world through Ticket to Ride, or build an empire in Catan. Riddles, puzzles, and other games can do the trick as well for an afternoon of play. In addition to being silly, collaborative, and fun, board games help to build cognitive resilience, which is especially beneficial for older adults. Laughter levels increase as the competition mounts, and by the time the game wraps up, you'll already be planning your next rematch!
Have A Story Hour
Reading doesn't have to be a solitary activity. Taking turns reading aloud to one another can be a wonderful way to get lost in a compelling plot. You can even practice your acting skills by using different voices and bringing the characters to life.
You could also provide the stories yourselves. If you have known your loved one for many years, you might assume that you know everything there is to know about them. However, if you start asking direct questions about their lives and experiences, you might unlock memories and tales unlikely to come up in casual conversations. There are many resources online to help you think of conversation starters, but here are some examples to help you dig deeper and learn more:
What did you want to be when you grew up?
Who was your childhood best friend?
What was the best trip you ever went on?
What was the greatest present you ever received?
Who was your favorite teacher or mentor?
Next time the weather is too hot or too cold to go outside, rest assured that all you need to have a fun, memorable time inside is a few suggestions, a bit of imagination, and the person you love. Enjoy!