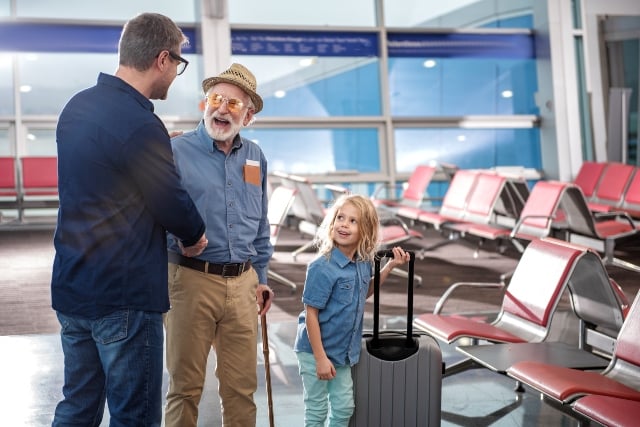 Sharing a trip with a senior loved one can create life-long memories that deepen our relationships while expanding our horizons. In addition to exploring far-off destinations, traveling offers a chance to spend quality time with the people we love.
If you are planning to travel with a beloved senior in your life, here are tips on how to help them stay comfortable, safe, and have a wonderful time throughout your trip.
Planning Your Itinerary
Planning the trip with your loved one increases the excitement and anticipation for the trip. It also allows your loved one to give input on the kinds of activities they feel comfortable doing. When discussing your options, share information with them through videos, photos, brochures, or a travel book. Give them a chance to help design the kind of adventure they want to have!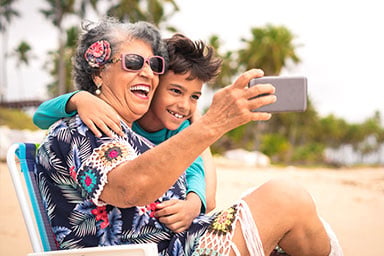 Depending on their age and abilities, you may want to make sure the travel location isn't too strenuous for your loved one. Consider the local accessibility options and lifestyles. Is there public transportation available or would it be better to rent a car? Will there be a lot of walking up hills or across far distances? Plan blocks of time for naps and relaxation, and allow ample time to simply enjoy conversation and each other's company.
Scheduling a check-up from their doctor beforehand may also help to make sure that your loved one's current medical conditions are in line with the activities you have planned. Also, ensure that all recommended vaccinations are up to date.
Packing Your Bags
Oftentimes, it's convenient to pack two bags. A large bag can be great for clothing, toiletries and larger items, and a carry-on or day bag is easy to access and store while traveling.
Older adults tend to be more sensitive to temperature changes. In their day bag, you may want to remind them to bring fuzzy socks and a nice warm, sweater. You might also want to bring an extra blanket and a neck-rest pillow so they can comfortably rest along the way.
If you are flying and your senior loved one hasn't traveled in a while, make them aware of the current guidelines for packing. (Consult the TSA Travel Checklist for the most up-to-date information.) Additionally, make sure that they pack medicines in their carry-on bags just in case a checked suitcase gets lost or delayed.
If they are unsure what clothing items to pack, encourage them to dress in comfortable, non-constricting clothing and footwear. Be sure to check the weather forecast at your travel destination. Other items to consider keeping close on hand are facial masks, hand sanitizer, an eye mask, earplugs, earphones, as well as healthy, nutritious snacks like cheese, fruit, crackers, nuts, and granola bars.
Navigating Air Travel
If you are flying, try to get as many non-stop flights as possible to avoid long airport layovers. Airports are often crowded, expansive spaces, and depending on your individual loved one, they might find the airport exhausting. That said, be sure to arrive at the airport early when checking in so you don't need to rush. Most airlines will allow you to board early if you're traveling with an older adult.
When booking your ticket, opt for an aisle seat when possible, allowing your loved one easier access to the bathroom and the ability to get up frequently to stretch their legs. Standing up and stretching at regular intervals are important on flights because they help reduce swelling and help prevent blood clots. Compression stockings may also help soothe and reduce swelling of legs, ankles, and feet.
Even if your loved one doesn't typically use a wheelchair or need motorized transport to reach the next gate, it may help conserve their energy if you have a long travel day ahead of you. Contact the airline to request these in advance. (See Delta's accessibility options here, for example.) Before you board at your departure gate, ask the flight attendant scanning tickets to confirm that someone will be ready to meet you at your destination's gate with your requested transport.
Regarding food and drink, talk to your airline in advance to request meals for special diets, such as renal disease diets or diabetic diets. Also, be sure they drink a lot of water to stay hydrated, as the air on planes is often very dry.
Capturing Precious Memories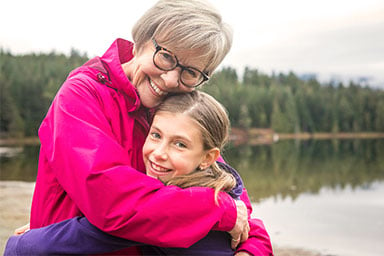 No matter where you decide to travel, it will be the memories of this precious time together that you will all cherish, so don't just record the sights and scenery. Remember to take lots of photos of your loved one enjoying the places you visit together. You may also consider bringing a travel journal to jot down details of the trip, and the conversations and stories they share with you along the way. These mementos will continue to bring back memories of your trip. You, your kids, your grandkids, and your travel companion will enjoy them far into the future.
Happy travels!