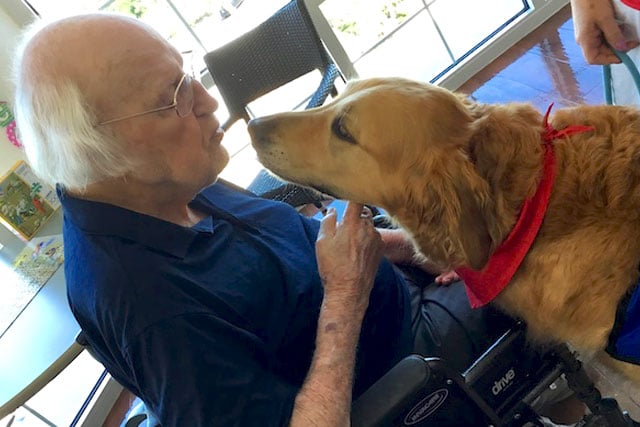 Pets are a source of entertainment, companionship and stress relief for people of all ages, so it's no surprise that pet therapy is popular at senior living communities around the world. In fact, the benefits of animal-assisted therapy have been heavily studied and chronicled. But few senior living communities have as many pet-oriented programs as Regal Palms in Largo, Florida.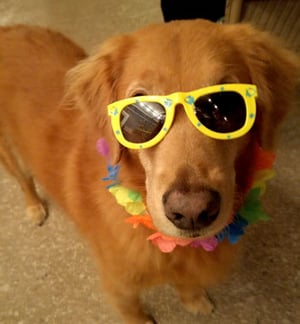 A half dozen Golden Retrievers visit the community on the second Saturday of every month, a pair of Dancing Maltese also visit monthly, and they even have a robotic dog and cat available on-site. Life Enrichment Director Tammy oversees all of the programs and says the benefits are obvious.
"What the residents get from these dogs is really cool," she says. "They walk in and the whole atmosphere just changes."
The Golden Gang
The Golden Retrievers have been visiting Regal Palms for years. Known as the Golden Gang, they start out in the Pearls of Life® memory care neighborhood, and Tammy says it's hard to tell whether the residents or the dogs enjoy themselves more. "It's a secure unit, so the dogs can wander around with the residents like you'd see in your house," she says.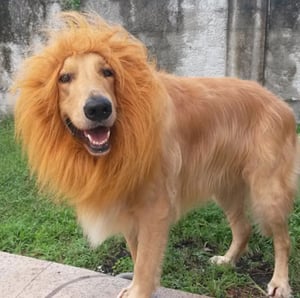 The dogs must be trained and certified as service dogs in order to volunteer in the community. Their owners and staff are also available to help while the residents enjoy their company. "They're loved-on. They're stepped on. It's just a love fest," Tammy says. "We've had memory care residents get on the floor with the dogs."
When they leave, the dogs get an ice cream treat – "They'll do anything for a Frosty Paw," Tammy jokes.
Smaller Dogs
The residents have just as much fun when Chloe and Dolly visit.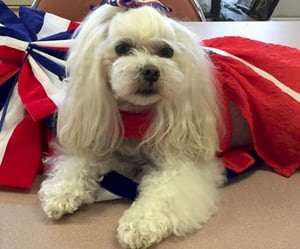 "They're the Dancing Maltese," Tammy says. "They wear matching outfits and do tricks for us, and they just bring so much joy."
Since they are smaller lap dogs, they have a different kind of relationship with the residents.
"It's more of a one-on-one, but they are also loved," she says. "And they hardly ever cancel. All of our pup parents are so faithful."
In fact, some of the dogs also make special appearances for holidays. On Valentine's Day, the Golden Gang delivers valentines to the residents. On Mother's Day, the dogs deliver carnations to the moms. And on Halloween, they come in costume.
"We've had Captain Jack Sparrow, we've had Elvis. It's a real highlight of the year."
Robotic Pets, Too
With so many live visitors, you might not expect to find robotic pets at the same community, but Tammy says they are a big hit.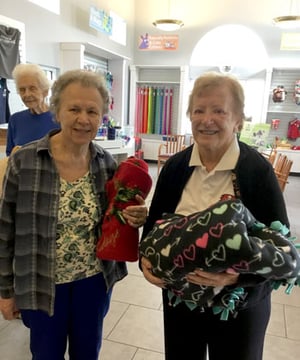 "We have a dog, and it's a Golden, of course. His name is Franklin, and we also have a robotic cat named Ricky," she says. "The cat purrs. The dog barks. And the residents love them."
Studies have shown robotic pets to be helpful substitutes for the real thing, especially in cases of loneliness or memory loss, and Tammy is impressed by how easily the residents bond with them.
Learn more about therapy pets for dementia residents.
"They sit on people's laps. They carry the animals around on their walkers. They even tell their troubles to these animated animals," she explains. "It's just really calming. It creates a real sense of calm for them."
You Can Try This At Home
It doesn't take an official program to give a loved one the benefit of a pet pal. In general, Tammy says "once a pet person, always a pet person." People who have loved pets all their lives will light up when a new one enters the room. In fact, part of the joy of interacting with a pet is that it is an ageless activity.
"These pets make them feel like they're young again," Tammy notes. "They can cuddle them on their lap and they can sit on the floor and hug their neck. It's a bigger the dog, the bigger the kid kind of thing."
In fact, Tammy says the size of a dog rarely matters when pets visit.
"We have these little lap dogs that come in and we also have a 137-pound Golden that comes in, and the residents are not startled by his size. They barely notice. Pet therapy is really all about that unconditional love."