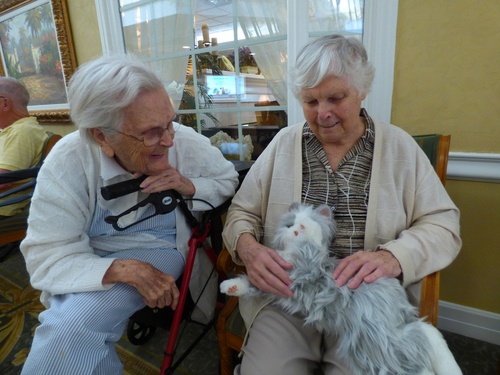 Animal and pet therapy has long been recognized as calming and soothing for seniors — especially those in dementia and Alzheimer's care. Many senior living communities sponsor animal therapy programs, where residents can interact with animals periodically. While those programs are wonderful, they depend on the availability of the animals — which can be limiting. That's where Companion Pets come in.
What Are Companion Pets?
They're interactive, battery-operated, robotic pets that have been shown to provide much of the comfort, joy, and companionship of a live pet. Companion Pets were designed specifically for seniors in mind. However, they can provide companionship for anyone and are especially great for those who live alone. Companion Pets come in dog and cat versions and feature life-like fur, authentic sounds, and realistic movements. You can see videos of them in action here.
All the Joy, None of the Maintenance
While many senior living communities have animal therapy programs or even allow resident pets, that may not be feasible in all circumstances. Some residents may have allergies and caregivers can't always help with pet maintenance. Companion Pets are ideal for those situations. They offer residents many of the benefits of having a pet without the responsibilities of daily walks or tending to the cat box!
But Are They Realistic?
Yes, they truly are realistic. Sometimes people wonder, however, if a mechanical pet is
somewhat insulting to an older adult — as if someone is trying to fool them into thinking the pet is real. That's not the case, according to Katie, National Director of Life Enrichment for The Goodman Group. "Many of the residents know they're not real," Katie says. "In fact, some of our memory care residents know how to turn them on and off."
Even though the Companion Pets aren't "real," they seem to create the same results as live animal therapy. They produce smiles, calm nerves, and give residents a sense of friendship. "There's something very soothing about them," Katie says. "So soothing, that in a recent meeting our CEO picked one up and put it under his arm," Katie laughs.