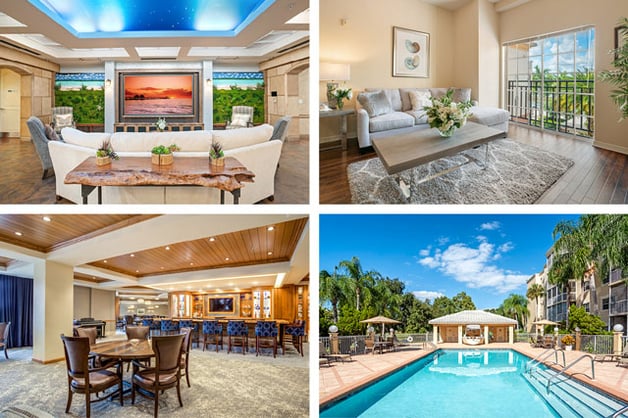 Much like single family homes, movie theaters, and malls, senior living apartments are getting upgrades as technology advances and design tastes change. From additional bedrooms and bathrooms to high-end finishes, senior apartments look nothing like they did 20 years ago. Additionally, today's residents can expect an impressive scope of amenities and luxuries. While senior living remains health-focused, this evolution can be attributed to the Baby Boomer generation as they have aged into the primary users of senior living communities. Here's a look at the evolution of senior apartments and some of the great new features that are now available including images of a few communities managed by The Goodman Group.
Apartments are Bigger
Over the years, apartment sizes have grown — both in square footage and the number of bedrooms. About 20 years ago, most senior apartments were either studio or one-bedroom units. Today, as more Baby Boomers age and downsize, there are more one-bedroom with den or two-bedroom apartments available.

As the number of bedrooms increases, so does the number of bathrooms. Apartments in communities managed by

The Goodman Group

often have two bathrooms within the two-bedroom apartments.

Open-Concept Design is Popular
Senior living apartments are also following suit with the open-concept design trend. Kitchens are now open to the living space, for example. The elimination or reduction of walls can actually be a benefit to seniors. The open spaces make it easier to move around and present fewer safety hazards. That's especially important for seniors who use mobility devices like canes, walkers and wheelchairs.

LOW MAINTENANCE AND HYGIENIC FLOORING
In communities managed by The Goodman Group, residents enjoy upgraded flooring within their own apartments as well as community spaces. Luxury vinyl panels (LVP) have been installed in kitchens, bathrooms, and some living spaces and bedrooms. The material is known to be safe, requires no maintenance, and is easy to care for.
Additionally, Flotex, a high-tech textile composed of nylon fibers, has been installed in areas where slips and falls may be of concern as well as in memory care communities. This hypoallergenic, completely waterproof, anti-slip flooring is yet another example of the evolutions made in senior living communities.
VIEW 360° ROOM TOUR
View some of the changes made to the communities managed by The Goodman Group yourself via 360° imaging, here!
CLOSET AND STORAGE SPACE IS IMPORTANT
Walk-in closets are an additional upgrade made to apartments. They replace reach-in closets, which could be more difficult to access for seniors. Plus, large closets offer more storage space than in the past — an increasingly desired feature for any dwelling.
Amenities are a Huge Perk
More than ever before, apartments of all kinds, including senior apartments, are focused on providing an amenity-rich community. A common wish list for residents includes an in-unit washer and dryer, a fitness center, swimming pool, salon or spa, as well as on-site convenience stores and banks. Many new communities are including these amenities in their designs, making independent living more convenient than ever.

Seniors Prefer High-Quality Finishes
Seniors, especially Baby Boomers, are interested in higher-quality finishes. Living in not only a functional but beautiful space matters to many people and seniors alike. There's also a greater demand for add-ons such as balconies, pretty views and landscaped walking paths. Emphasis is placed on creating spaces that are timeless and can be enjoyed by generations to come.
Wi-Fi is the New Norm
There's still a great need for built-in phone connections — both for resident and community resources use – but having a reliable internet connection for residents to use has become more pertinent. Communities managed by The Goodman Group offer complimentary Wi-Fi in all common areas.
Wi-Fi is beneficial for loved ones who would like to virtually visit senior members of their family. After the pandemic, the means in which people communicate has drastically changed, and the use of video call has become second nature. Having reliable internet within senior living communities allows for family connection without being in the same physical space.
In general, senior apartments today are keeping up with the same trends that we're seeing in new-home construction. And more than ever, seniors have more input in what they want and need as they age.