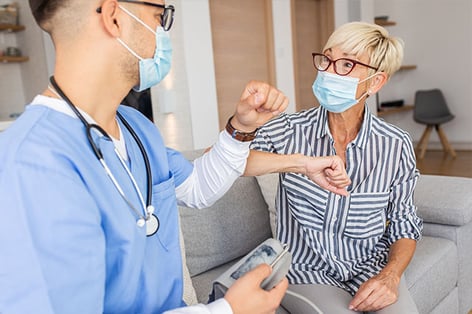 Deciding on the proper care pathway can feel overwhelming when a loved one needs more care than you know you can provide. Many people mistakenly assume that long-term care is the next step after living alone becomes unsustainable, but the decision does not need to be so drastic.
Whether your loved one is recovering from an injury or seeking rehabilitation after a surgery, there's a host of alternatives that can make sense, like short-term care, skilled nursing care, or respite care.
Consider the timeline and type of care necessary
"'Temporary' is the key word when thinking about short-term care," says Renee M., a nurse liaison at Sabal Palms Health & Rehabilitation at The Palms of Largo in Florida, a community managed by The Goodman Group. According to 2018 research from the non-profit group ACCESS Health International, the number of Americans over the age of 65 will double from around 50 million today to nearly 100 million by 2060. At the same time, people are staying healthy and living longer than ever. "Many people just need assistance while getting back up to their higher level of functioning so they can return home," explains Renee.
"We provide care for folks recovering from a temporary illness or needing extra attention after surgery," says Renee, "or if a primary caregiver needs to be away for an extended period of time." In these situations, many families find that short-term care is an appealing option.
Communities that offer short-term care can provide a range of individualized rehabilitation services. For example, individuals may have access to expert physical therapists to help regain physical strength, occupational therapists to readjust daily activities, or even speech therapists to rebuild communication patterns. These care teams create a goal-oriented recovery program designed around the needs of the individual.
Depending on the nature of the incident, readjusting and adapting to new lifestyles can be easier with specialty support nearby. "It gives families peace of mind while their loved one recovers," adds Renee, "and they'll likely be more successful coping once they are back home."
When is short-term care not enough?
Renee also adds that deciding to pursue short-term care is often an entry point for beginning to discuss what the future holds. Sometimes, a physician will make the recommendation for rehabilitation before a surgery, but Renee says that "there's no telling prior to any procedure how the resident is going to move through care."
Renee characterizes short-term care as "a step on a journey" toward a lifestyle that works for them – and that journey often starts after a surgery or emergency puts a senior in short-term care. In 2017, the National Council on Aging reported that approximately 80 percent of older adults have at least one chronic disease, and 77 percent have at least two. If your loved one's ailments are linked to a chronic condition that might be progressive, short-term care might not be the best option.
Cognitive and ambulatory assessments help short-term care specialists determine if a resident's state of health can support their return home for the long-term. But Renee says she also considers a resident's home life in evaluating whether or not they should transition to senior living.
"Even if they have family and loved ones they trust nearby," she says, "their family may not fully understand the need for additional intervention."
It's normal to feel overwhelmed by decisions after something impacts your loved one's health. Seniors and their loved ones should consult their physician, family, and short-term care specialists to determine the care option that's right for them.