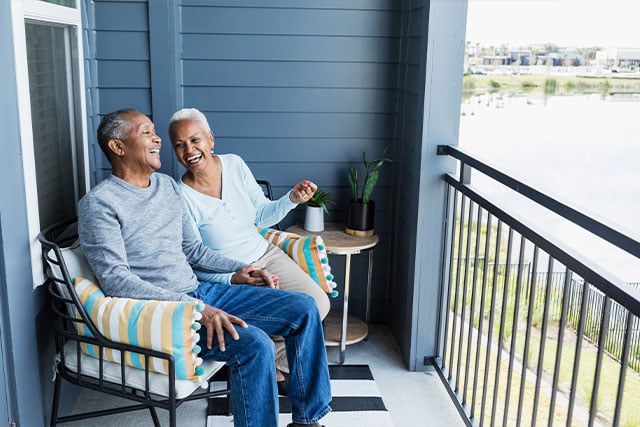 During the search for a comfortable and safe senior living community for your loved one, you may experience feelings of confusion and stress. Take a deep breath and remind yourself that your feelings are rooted in the care and concern you hold for your loved one. You are not in this alone.
For many adult children, identifying the best support, community, and safety for their parents or grandparents is a high priority. You want the clarity necessary to ensure your loved one has everything they need to thrive in the later years of their life, and doing so begins by understanding your options.
THE DIFFERENT TYPES OF SENIOR LIVING
To help shed light on your discovery journey, we have created a list outlining the names and types of senior living communities, the population each serves, and what services and amenities each provides. We hope this information will inform and empower you on your path to finding the perfect community for your loved one.
Senior Apartments
Senior apartments are units in age-restricted communities, typically with minimum age requirements of around 55 or older. Amenities vary considerably based on the community. These apartments may provide additional services like transportation, housekeeping and meals as well as gyms or fitness classes. Rarely do they offer healthcare services, as residents generally remain independent.
A senior apartment is ideal for individuals needing little to no help living their daily lives. Senior apartments also offer quieter living options for those who wish to avoid the hustle and bustle of family-oriented communities. Many seniors explore this option if they are looking to move closer to friends, family or activities they enjoy. As with any apartment, the price varies based on location, size and amenities.
Independent Senior Living
Other Names: Retirement Communities, Senior Apartments, 55+ Communities
Like senior apartments, independent senior living communities are ideal for active, healthy seniors who don't need hands-on care. However, independent senior living usually offers a larger range of benefits and services to create a sense of community. Although amenities vary, these communities may provide residents access to dining, transportation, housekeeping, laundry and maintenance as well as a range of intellectually, physically and socially stimulating activities.
Maintaining a house at an older age can present some challenges as there is a lot to stay on top of (i.e., dishes, yard work, dusting, mopping, laundry, vacuuming, etc.). While living at home, seniors may also begin to feel lonely or increasingly isolated as it becomes more difficult for them to visit friends. Independent senior living eliminates the weight of handling most daily chores and provides seniors with the opportunity to interact with people their age who may share similar interests.
Much like residential apartments, independent senior living costs vary depending on the community's location, size of the apartment, the services provided, and more.
Assisted Living
Other Names: Adult Congregate Care, Residential Care Facility
Assisted living communities are for seniors who are mostly independent but may require some assistance with activities of daily living (ADLs) such as personal hygiene, dressing, eating, mobility, etc. It's important to note that assisted living communities are best for seniors who don't need skilled nursing care yet.
As the fastest-growing senior living option, assisted living communities can meet the needs of a wide variety of seniors. Much like independent living communities, many assisted living residents want to eliminate maintenance and spend their time doing meaningful activities they enjoy.
The cost of assisted living varies depending on the services provided and the specific community. The extra services included with assisted living mean it's often more expensive than independent living.
Memory Care
Other Names: Alzheimer's Care, Dementia Care
Seniors with Alzheimer's, dementia or other cognitive impairments need frequent attention from trained team members and dedicated spaces to receive it for both their safety and quality of life. That's why memory care communities offer secure areas, sometimes inside an assisted living community, to prevent residents from wandering and ensure they receive proper care. To keep them stimulated and integrated with their fellow residents, many memory care communities provide seniors with art therapy and music therapy programs.
The costs of memory care are typically higher than independent or assisted living because it requires 24-hour supervised care by trained team members.
Skilled Nursing Care
Other Names: Skilled Nursing Facility
A skilled nursing community offers a high level of medical care provided by trained professionals, such as registered nurses and physical, speech and occupational therapists. Examples of skilled nursing services include intravenous (IV) therapy, physical therapy and monitoring vital signs. Some individuals may seek skilled nursing care on a short-term basis for rehabilitation after hospitalization or other medical procedures; however, long-term care exists for individuals who require regular or around-the-clock care.
Home Care
Other Names: In-Home Caregiver
Home care may be the most common form of senior care in the United States. Home care is well-suited for seniors who want to continue living at home, but also need assistance with ADLs, transportation, and tasks around the house.
Home care can often be scaled to a budget, from weekly visits to live-in care. But hourly billing can become cost-prohibitive when the senior's level of care intensifies, often leading families to explore a more permanent senior living option.
Adult Day Services
Other Names: Adult Day Programs, Adult Day Care
Adult day services are often located in community centers, churches or synagogues, or within senior living communities. Most locations offer half-day and full-day options, and most are flexible with how often a senior comes. Generally, the services offer entertainment or social activities, therapy, health care services, and simple monitoring. Sometimes, adult day services also provide transportation from the individual's home to the community and back again.
Most family members seek this type of service for their parents or grandparents to give themselves a break from their daily caregiving duties, but adult day services can also give their loved ones the chance to mingle and join activities with other seniors.
Adult day services are typically one of the least expensive options for senior care, but costs vary depending on the amenities and services provided.
Respite Care
Other Names: Short-term care, Trial Stay
Respite care is when someone plans on staying at a senior living community only for a short time. It may be a few days, a week or a month. Respite care may be the perfect choice following an injury or surgery as a means to rehabilitate, or as a time for family caregivers to take a vacation or simply rest and recharge.
The cost of respite care depends on the services required, duration of the arrangement, and, of course, the quality of the community where your loved one will be staying.
Senior Condos and Co-ops
Similar to senior apartments or senior independent living, senior condos and co-ops offer residents the benefits of living in age-specific communities (usually 55+), with the additional offer to purchase equity and own their property as an investment.
A SIMPLE SUMMARY
Senior Apartments are age-restricted housing communities, often 55 and older, for active seniors without the need for much day-to-day assistance.
Independent Senior Living can be homes, apartments, or larger communities that provide help with daily living, like dining, laundry, and housekeeping, as well as social activities.
Assisted Living encompasses residences where seniors can get help with activities related to daily living such as personal hygiene, dressing, bathing and grooming. They also offer social activities for residents to participate in as they choose.
Memory Care communities or residences offer secure neighborhoods that specialize in caring for seniors with cognitive issues that would normally interrupt their daily lives. Some assisted living communities feature memory care neighborhoods.
Skilled Nursing Care is a separate residence offering a high level of care from trained professionals. It can be short- or long-term depending on the needs of the individual.
Home Care gives a senior the freedom to live at home while receiving help with daily tasks, transportation and some medical care. Usually billed hourly, home care can be scaled, but isn't considered a permanent solution for seniors with increasing healthcare needs.
Adult Day Services are designed to help seniors fight loneliness, and they also give in-home caregivers a short break. These services are often located in supportive environments where seniors can engage in social activities, therapy and more. Families who serve as caretakers for aging parents and grandparents often opt for adult day services to reduce stress on themselves.
Respite Care is short-term care away from home for seniors following hospitalization, surgery or injury. Usually lasting less than a month, the primary goal of respite care is to get them back on their feet and ready to return to daily life. Respite care also serves as a great opportunity to ease into senior living by experiencing the lifestyle offered at a community.
Senior Condos and Co-ops provide living arrangements for seniors (usually 55 years and older) with the option to purchase equity in the property as an investment.
Choosing the right senior living option for your loved one starts with understanding your hopes for the future and what services your loved one needs. If you have any questions, please don't hesitate to contact our team at The Goodman Group. We are delighted to help you get started in the right direction.