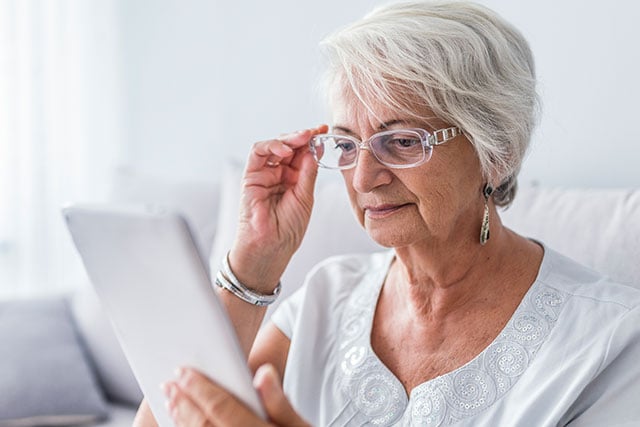 If you're just beginning to research senior living options, for yourself or a loved one, you may find that not all communities charge for their services in the same way. Some offer an all-inclusive rate while others offer time-based or á la carte packages. To ensure you or your loved one receives the proper amount of care at an affordable rate, it's best to understand how these pricing models compare.
When you first contact a community, they typically have a healthcare professional, often a nurse, sit down with you and do an assessment of your situation and needs. This will help them determine and recommend the level of care they think you or your loved one will need. From there, they can explain the different packages of care they offer and their costs.
There are four common pricing models for senior living communities:
Points system: Residents' needs are converted into points, and the points translate into dollar amounts.
All-inclusive: One fee, everything included.
À la Carte: Typically a base price for the room, and then everything else is pick-and-choose and priced individually.
Time-based packages: Charged based on the time it takes to provide resident care.
Here is a breakdown of the four common pricing models used in senior living communities.
POINTS SYSTEM
Some senior living communities charge residents based on a points system. Each resident has an assessment with a team member, who then determines what level of care that individual needs, subsequently informing the point system
In a points system, each need would be associated with a certain number of points. For example, if a resident wants to shower twice per week, that might equal eight points. Laundry services twice per month might equal two points. Once the assessment is complete, the team member tallies up the points and recommends a package that most closely fits with the resident's needs.
ALL INCLUSIVE PACKAGES
The name says it all—these types of communities provide comprehensive room, board, meal and nursing services. This type of plan is common in memory care settings to incorporate incidental needs such as wandering and redirection.
Costs can vary widely by state and county. "With an all-inclusive package, you will pay the same price all the way through the life of the residency," says Kristi, director of clinical revenue for assisted living at The Goodman Group. "Of course, there are normally annual cost of living increases to be expected." Other communities may have more variable rates. Some may have additional fees for services like laundry and housekeeping.
À LA CARTE
This is the pick-and-choose option that provides a lot of flexibility for residents and their families. This type of pricing is typical for assisted living communities. There's usually a base price for the room or apartment. Then, the resident can choose from a menu of other services. For example, meals, housekeeping, medication management, and bathing assistance.
It all depends on the resident's specific needs and preferences. Often, these services are bundled together. For example, two meals a day billed monthly. Most á la carte packages offer a great deal of flexibility and residents can change their options monthly.
TIME-BASED PACKAGES
Some communities determine the amount of time it will take to provide specific services and structure a package price based on that. This approach is also unique to the resident, as it meets their specific needs.
Time-based packages are what we offer at communities managed by The Goodman Group. "We'll help you find the appropriate package based on hours needed," Kristi says. "It doesn't matter what services you're getting — you can personalize those hours. And you don't pay for what you don't need." If the resident uses more service time than originally anticipated, they'll be charged for that time á la carte and their level of care/package may be modified for the upcoming months.
"The residents have the appropriate number of team members there to provide the service they need," Kristi says. "It's a well-balanced wheel. We're really trying to look at what the resident needs. It's fair and predictable. Residents are charged for the hours of care provided, we staff directly based on the hours of care provided, and it is a win-win for both residents and team members."
MONTESSORI INSPIRED LIFESTYLE® AT THE GOODMAN GROUP
Along with the time-based packages, communities managed by The Goodman Group conduct a care approach called Montessori Inspired Lifestyle®. Ultimately, Montessori Inspired Lifestyle® allows memory care residents to focus on their individual strengths and engage in meaningful activities that they want to participate in.
"All of our team members are trained to offer choice, to give our residents the time they need to still be independent and decide things on their own," shares Tina V., regional director of life enrichment at The Goodman Group.
There is no "one size fits all" approach to care which is why individualized, time-based packages work best for communities managed by The Goodman Group. Of course, there is no right or wrong way to charge for senior care, so it really depends on you or your loved one's preferences, level of care, and budget. Good luck on your search, and if you have any questions, feel free to contact our team!