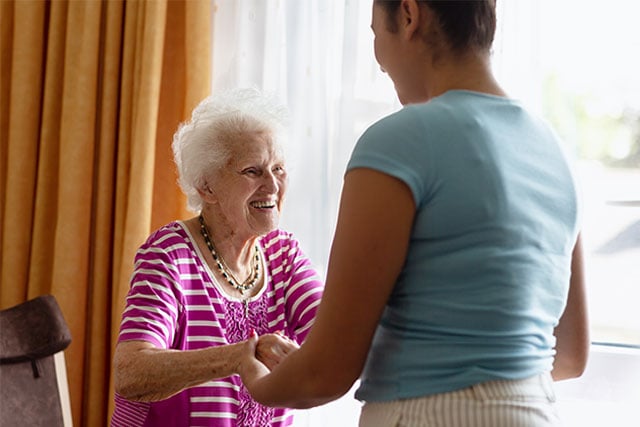 If a loved one is experiencing Alzheimer's disease, dementia, or another form of memory loss, be assured that quality of life is very much achievable. Memory care communities in particular offer specialized environments where your loved one can not only live, but thrive.
The best provide all of the day-to-day needs residents require while maintaining individual dignity - something we all deserve. Leading a safe, stimulating, and individualized life should not be compromised when moving a loved one to a memory care community. In fact, there are many life-improving benefits that come with said communities. Here's what you should keep your eye out for when looking into a memory care home for your loved one.
Safety
First and foremost, your loved one should be completely safe. Individuals with dementia have the tendency to wander or become disoriented. Memory care communities have ample accommodations throughout the community to ensure residents are always safe. This includes well-constructed living areas, places for residents to explore safely, and well-trained staff who are always watching over residents – even if they're not their primary care attendants.
RELAXED, COMFORTABLE ENVIRONMENT
Individuals with memory loss need to feel secure and oriented in their living areas. A fast-paced, ever-changing environment can cause unnecessary stress to a loved one. It is critical that the memory care community cultivates a relaxed, comfortable, and reassuring setting to help residents feel well cared for and at ease. This sense of comfort will naturally extend to family members and friends who visit so that they can focus on spending quality time with their loved one.
MENTAL STIMULATION
Individuals with memory loss need to have the right balance between structured and flexible activities throughout their day. The structure helps reassure individuals and the flexibility allows for modifications and individual expression – while still providing for individual needs.
High-quality memory care needs to offer many recreational and social opportunities for residents to self-elect to participate in. These activities are structured and can range from a variety of creative outlets such as painting, working with clay, baking or cooking, social hours, as well as animal-assisted therapy visits.
Escorted outings are not available at every memory care community. If it's important that your loved one embarks on trips to museums, plays and movies, be sure to ask if escorted outings are available as you research and tour memory care communities.
Quality memory care communities understand that outings and events are important for residents' social and overall well-being. It's not unusual for residents to discover and develop new life interests, regardless of the memory loss they are experiencing. For example, Villa at Terracina Grand in Naples, Florida, provides residents with the opportunity to take local trips as requested. This is an important factor in maintaining personal autonomy as well as stimulation.
CUSTOMIZED HEALTH CARE
Individuals with memory loss often have additional care needs that should be taken into consideration. For example, people with dementia often struggle with gaining their essential nutrients due to an irregular eating schedule. Memory care communities can help to ensure that residents are eating well and receive the appropriate amount of assistance during mealtimes.
Dignity and Quality of Life
Above all, dignity and quality of life remain of utmost importance in memory care communities and is a necessary factor to look for when selecting a community for your loved one. It is critical for every resident to receive personalized attention and care within their community. While a person with memory loss may require more assistance to complete daily tasks, this does not mean that all their autonomy is lost. Upholding dignity and quality of life is at the core of memory care communities managed by The Goodman Group.
Providing care for a loved one with memory loss can present challenges. Moving a family member to a memory care community helps to ensure proper care will be provided to them. Under professional care, your loved one will be safe and relaxed whenever you come to visit. Ultimately, the community's goal is to give residents, their families, and friends the ability to thrive at every stage of life.