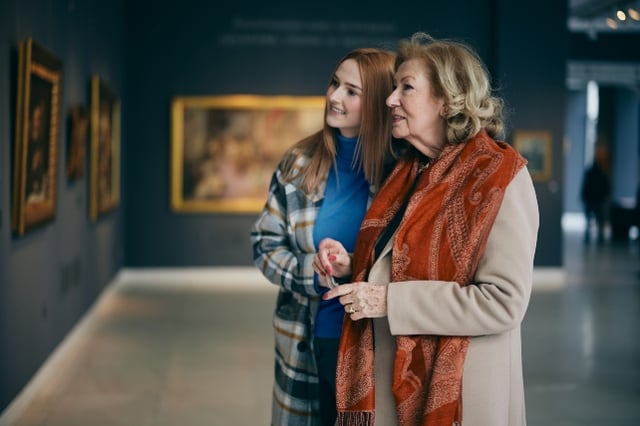 A change of scenery and filling your life with small adventures is healthy for people of all ages. Outings can be educational or recreational, so why not choose an activity that you enjoy and make a day of it? Going out to see local sights of interest is key to feeling content and fulfilled! Whether you're a part of an active senior living community or planning a fun day with friends or your senior loved ones, group outings can be a fun way to make memories with those you care about.
Here are some of the best places for a senior outing and factors to consider when planning your day.
Art Museum
An art museum is a great pick for senior art lovers as most offer discounts or free admission for seniors. Retirees have the chance to visit during the week, when crowds will be smaller. Recently, many museums have gone the extra mile to provide content and accommodations for those living with visual impairments or limited hearing.
Zoo
When going to the zoo with a senior, it's a wise idea to scout locations out in advance. You don't want to spend too much time walking from place to place in the full afternoon sun. Look for zoos that offer some indoor habitats, such as reptile terrariums or enclosed butterfly habitats. If you want to enjoy traditional zoo sights like the lions and tigers, pick early morning or late afternoon hours.
Aquarium
An aquarium offers all the wonder and excitement of a zoo but is often more senior friendly. As all the major exhibits are enclosed and climate-controlled, there may also be fewer potential safety concerns to worry about. Aquariums invite reflection and a peaceful atmosphere, so many provide places to sit and rest throughout, not to mention on-site cafes and gift shops. Since fish enclosures are so large, there are usually ample viewing areas.v
Local Parks
Each local park has its own allure, and you just may find something ideal for the senior loved one in your life. For example, some local parks attract plenty of dog lovers, others provide grill pits for great weekend barbecues, and others cater to avid bird watchers. Whatever the case, sun-sheltered areas like a gazebo, picnic shelter, or some benches beneath the trees help to make a park senior friendly.
How to Plan an Outing with a Senior
When planning an outing with seniors, you should take plenty of care to plan in advance so that your senior loved one is comfortable throughout the day. Take into account factors like mobility, dietary and medical requirements, safety depending on time of year, and energy level. By focusing on comfort from the beginning, an outing can be the high point of any week.
Here are some things to bear in mind:
Walking and Mobility Assistance
Some outings may require more walking than others. Be aware of your senior loved one's activity level and any mobility aids they might require, like a cane or walker. If they use mobility aids only sometimes or after exertion (as with some wheelchair users) bring the device or ensure one will be available at the site.
Temperature and Hydration
Seniors are at greater risk of heat-related complications like heatstroke and sunstroke. If in direct sun, it's essential to use sunscreen and bring plenty of water. A wide-brimmed hat can also help. Although many venues have water, don't count on it – there may be a long wait or very high prices.
Medication
It is not unlikely to forget to take medications when out-and-about. With that in mind, go over all required medications the evening before the outing, and take twice as much as required in case of loss or damage. Set an alarm so dosages will not be forgotten, along with a snack or water as needed.
Outings help seniors enjoy life and feel connected to the community. With these tips, you'll be on your way to a safe and pleasant time.