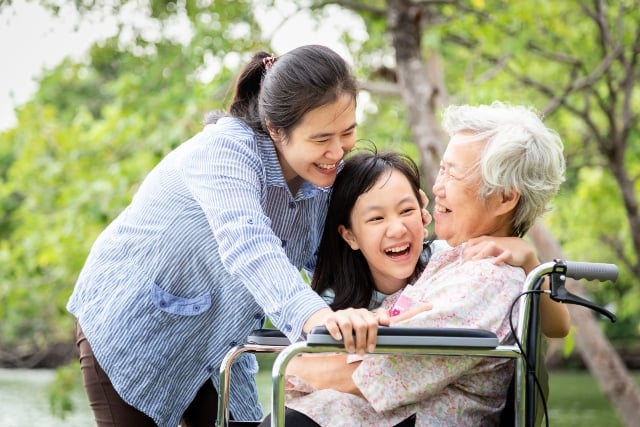 Many families wonder whether assisted living or memory care is the right choice for their senior loved one. Both of these kinds of communities offer unique benefits which strive to ensure necessary care while allowing residents to remain as independent and safe as possible.
We spoke to Ashley D., director of sales & marketing at The Commons on Marice in Eagan, MN, about how families start to determine which level of care is right for their loved ones.
What's the Difference Between Assisted Living and Memory Care?
Assisted Living Communities
"Many assisted living residents and their families choose an assisted living option because it allows the resident to eliminate day-to-day stress," Ashley says. "Oftentimes, it's the daily chores and upkeep that have become too much."
Assisted living communities, also sometimes called adult congregate care or residential care facilities, allow seniors to live independently much of the time while receiving assistance with activities of daily living (ADLs) such as grooming, dressing, eating, housekeeping, and getting around. These seniors don't require skilled nursing but usually desire more assistance than seniors in independent living communities.
"We even offer transportation services so that residents can run errands and go on outings," says Ashley. "We want them to have independence while also being safe and supported."
When team members at communities managed by The Goodman Group help with ADLs, residents can devote more time to doing meaningful activities they love.
Memory Care Communities
Memory care communities are designed to help seniors living with Alzheimer's, dementia, or other cognitive impairments maintain a safe and enriched quality of life.
"I'm always amazed by how being part of a community, making friends, and participating in activities, can positively impact a senior's life," says Ashley. "I've had many families comment that it's like getting their mom or dad back for the first time in years."
Because these residents require greater levels of care and focused attention from trained team members, memory care communities offer secure areas to help residents stay safe from wandering and to lessen the risk of falls in unfamiliar environments.
One of the most prized elements of memory care communities is the camaraderie between the residents, as well as resident-driven activities and programming such as art therapy, music therapy, and even pet therapy programs to stay engaged and slow cognitive decline. Sometimes, memory care neighborhoods are located inside assisted living communities.
Which is right for my senior loved one: assisted living or memory care?
If your loved one is living with mild dementia, they might be able to live independently longer by staying in an assisted living community and then transitioning to memory care as the condition develops.
Some signs that your loved one may require a greater level of care than assisted living offers are as follows:
They need constant or near-constant supervision for their safety.
They have tried to take items from stores without paying.
They often become aggressive or violent.
They have not been able to find their way home, or they have wandered away and become lost.
They have begun to forget safety precautions such as turning off the stove, discarding expired foods, locking their doors, etc.
Every person and family is unique, but these indicators may suggest that your loved one would benefit from a memory care community. Consulting with a medical professional is often the best way to diagnose your loved one's medical needs. At communities managed by The Goodman Group, licensed nursing staff assess each new resident to determine necessary care and services.

REDUCING Stress and Worry
"Whether a family chooses assisted living or memory care, the biggest change families notice right away is the quality time between seniors and family members because it removes the stress and worry," Ashley says. "You don't have to check in on medicine or assess how the housekeeping is going. You don't have to be worried about transportation. Instead, you can just visit, attend an activity, or even go to one of our happy hours!"
If you have any additional questions about what services are offered within assisted living and memory care communities or how to decide which kind of community is right for your senior loved one, please don't hesitate to reach out. Team members at The Goodman Group managed communities are available to share resources and support for you and your loved one.