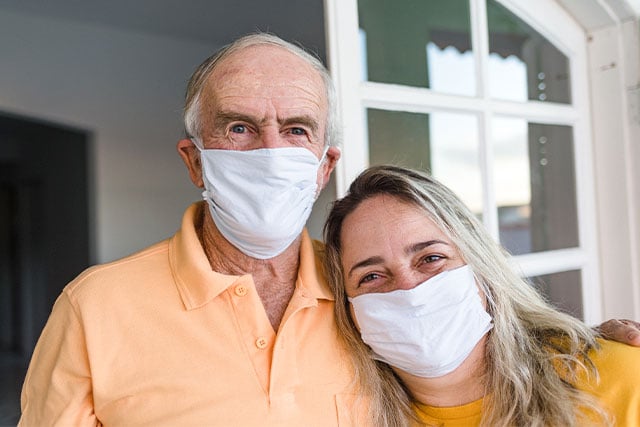 Taking care of a loved one takes a tremendous amount of love and courage from both sides, and it can also be physically and emotionally challenging for the caregiver. If you're a caregiver that's feeling exhausted and overwhelmed, unable to provide your loved one with the care they need during this trying time, you're not alone.
Though you may feel compelled to provide care so your loved one can remain at home, we recognize that everyone needs support, now more than ever. Short-term relief and self care are equally important. After all, it's not just their journey – it's yours as well.
What is respite care?
Respite care is temporary relief for the caregiver. Respite care can mean a number of things: having an additional caregiver come into your home, having your family member spend a few weeks at a senior living or health care community, or investing in a more permanent living situation for your loved one at a senior living community.
"Sometimes having that third party to work with them on keeping them healthy is kind of that neutral ground and takes that stress from the caregiver as well," said Christina G., area director of new business at The Commons on Marice and Chandler Place, who works with the respite care program.
Respite care benefits the caregiver by reducing the physical and emotional toll that caregiving can take, and it can also help ease your loved one's worry about being a "burden" to their family. Start by identifying what kind of assistance would be most helpful to them – and you.
What type of care does your loved one need?
You've decided you need support to care for your loved one – now what? Start by creating a list of your loved ones' individual needs. Do they need help with personal care such as bathing, eating and dressing? Do they have memory and communication difficulties that would be best handled by a trained professional? Or do they require emotional support and would benefit from safe, meaningful activities? Evaluating their needs will help you determine which respite care options are right for you and your family.
"For some families, it's just having a safe place for them to be with staff around, and then we have some that need full care; that need help getting up every morning, and getting dressed, and going to the bathroom and showering. So we can do as little or as much as they need," said Christina, referring to respite care offered at several communities managed by The Goodman Group.
In-Home Respite Care
There are a number of different types of caregivers who can come to your home: volunteers, trained professionals, or even health care workers. They can visit just a few hours out of the day, or even stay overnight. This form of care assistance is a great way to provide for your loved one in the comfort of their own home, making it appealing given the apprehension toward leaving the house during the COVID-19 crisis.
Although this is a great option for some, it's important to consider that if you live in the same space as the family member you care for, it might be a challenge to know how to properly distance yourself to ensure their well-being. That can take away from the relief you were seeking and can also be confusing for your loved one. In-home care can also get expensive and limits the caregivers' access to resources like on-site support and tailored amenities – which they would have access to in a community outside of their home.
Respite Care Programs
This is a great choice for caregivers who want to incorporate more time for their individual healing, but aren't ready for their loved one to move out entirely. Their loved one can stay with a community for a few weeks or a longer period of time, depending on the amount of respite care you both need.
"The best part about respite care is that it offers something to families that they didn't necessarily know was there," said Christina. "So many times they're just not ready to make that permanent move with their loved one, and giving them this resource gives them that break."
Many communities managed by The Goodman Group offer flexible respite care options, providing fully furnished apartments for residents and 24-hour on-site staffing during their stay. This puts a lot of the heavy lifting in the hands of a trained professional, while giving you quality time with your loved one at home when you're ready.
"It's like their own home. They have their privacy. It's comfortable. It's not like being at a hospital," said Christina. "Basically, our goal is always to keep our residents as independent as possible. We don't want to take anything from our residents. So there's flexibility that we can offer as far as the care services go. We can provide them with as much or as little as they're needing in that length of stay."
With the Respite Care program, your loved one has access to all of the community's amenities and services, too, such as meals, housekeeping, Life Enrichment programming and more.
It's also a good "test drive" if you're considering a senior living community and may ease the transition into a more permanent living situation, should that time come.
"We've had families that did the respite and then when the time came that they needed something more permanent, then showed up again because they had a great experience," said Christina.
Considering a More Permanent Situation
Gone are the days of the stereotypical "nursing home." Today's senior living communities are dynamic and engaging, providing a full range of activities, services, and medical care to keep your loved ones safe, active, and connected. We know that the decision to place a family member in offsite care can be challenging, but with the right people in the right place, it can also be very rewarding for your loved one. There's a lot to consider when starting the conversation around senior living, so be sure to prepare for the discussion.
No matter which option you choose for respite care, know that you're not alone in this. It may be hard to admit when you need a break, especially from someone who means the world to you. Know that this feeling is normal. We encourage you to seek support so that you can continue in the role you've always enjoyed: being a loving spouse, son, daughter – whoever that may be!