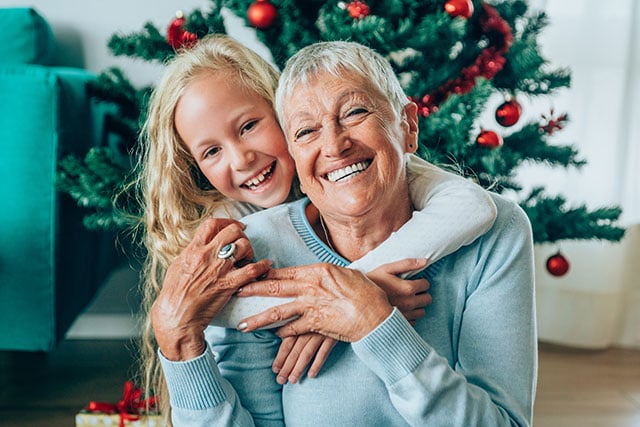 Editorial note: This blog was originally published in December 2019 but was updated with additional information that you will hopefully find useful.
The holidays are traditionally a time for celebration and family gatherings. Though a joyful and nostalgic time for many, the holidays can sometimes be difficult for people. This can often be true for seniors who may no longer be able to gather due to traveling or having lost family members and friends over the years. Reminiscing on memories of past holidays can be difficult to deal with. Subsequently, it's not uncommon for seniors to experience loneliness during the holidays.
Holiday Isolation
During the holiday season, feelings of grief or sadness can be magnified for seniors. Whether that's due to seasonal depression, missing loved ones who are no longer around to celebrate, or not having family or friends nearby to join in festivities, all can contribute to feeling isolated. As emotional beings, we are driven to make meaningful connections with others–which can be difficult to navigate when a loved one passes.
Honoring those who are no longer with us can be a powerful way to redirect feelings of isolation during the holiday season. Setting up photos or re-engaging in old traditions can help mitigate those feelings.
ADVICE FOR COMBATTING SENIOR LONELINESS
If you or your senior loved ones experience loneliness during the holidays, here are a number of tried-and-true methods to help stay connected, enjoy your time together, and celebrate the holiday season.
Keep your routine.

During the holiday season, don't stop doing what makes you feel good.

Take a walk

to get some fresh air and make sure to keep your body hydrated and fueled

.

Be mindful.

Remember that it's normal to not always feel jolly during this time of year, and that's okay. But if you're feeling particularly depressed, talk to someone.

Get together.

Just getting together with new and old friends and being present with them is an effective way to combat loneliness. Whether for a few hours or a whole day, one or two people or a whole crowd, have reasonable expectations for how the visit will go. Don't worry if the visit is not like past holidays. Just enjoy each moment as it unfolds–

you may end up starting some new traditions.

Leave the past in the past.

Holiday gatherings do not have to be time to dwell on the sad or negative events of the past. Instead, focus on the positive and stay present throughout the day, while enjoying each moment on its own.

Create a tradition

. Begin a new tradition at your gathering, such as decorating cookies,

watching a movie

, or

creating an arts and crafts piece

specific to the holiday. This is a great way to keep your mind occupied and maybe even give you something to look forward to the following year.
The Goodman Group and its managed communities wish you and your loved ones a safe, peaceful, and joyful holiday season.