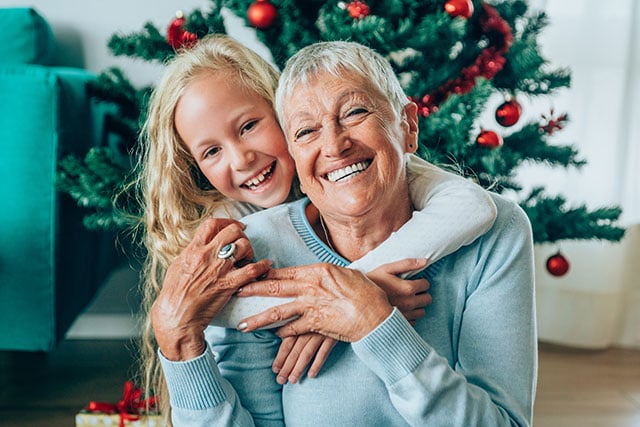 The holidays are traditionally a time of celebration and family gatherings. Though a joyful and nostalgic time for many, the holidays can sometimes be difficult for people. This can often be true for seniors, for example, who may have lost family and friends over the years. That can make those memories of long-ago holidays difficult to deal with. It's not uncommon for seniors to experience senior loneliness during the holidays.
Holiday Isolation
During the holiday season, emotional issues can be magnified. People may be sad and unsure about how to celebrate, or even if they should celebrate. And for those that no longer have close family or friends to welcome them into their holiday gatherings, emotional issues can be even more of a concern.
Without a reliable path or a trusted friend, seniors are too often left to navigate through those emotions alone. Sometimes, seniors will even isolate themselves and find excuses for why they can't attend holiday events, which can lead to further loneliness and depression.
How to Avoid the Holiday Blues
Even if you or your loved ones are prone to the "holiday blues," there are a number of tried-and-true methods that you can take to stay connected, enjoy your time together, and celebrate the holiday season. Try these suggestions to navigate the holidays and help avoid the blues for yourself or others:
Keep your routine. During the holiday season, don't stop doing what makes you feel good. See this time of the year as a milestone and a time to remember the good – and even the not-so-good times of life that have made you who you are today.

Be aware. Remember that it's normal to not always feel jolly during this time of year, and that's okay. But if you're feeling particularly depressed, talk to someone.
Get together. Just getting together and being present with others is a great start. Whether for a few hours or a whole day, one or two people or a whole crowd, have reasonable expectations for how the visit will go. Don't worry if the visit is not like past holidays. Just enjoy each moment as it unfolds – you may end up starting some new traditions.
Invite family or friends. If you have a family member that can be difficult at this time of the year, invite them anyway. If you know of a friend or neighbor who may be alone for the holiday, reach out and ask them over. This one day of community may change a life.

Plan out the day. If you're having a potentially anxious guest over and concerned that they may keep to themselves, plan out the day with them prior to the event. Let them know what to expect, who will attend, mealtime, and other details. Try to have foods they will enjoy during the day. This can be a huge relief to someone unsure of what to expect and help relieve potential anxiety and stress.

Leave the past in the past. Holiday gatherings do not have to be time to bring up the events of the past or even expectations of how things should go in the future. Stay in the day, enjoy each moment on its own.

Explore the joy of others. Make this holiday about everyone else but you. Investing in others brings joy to everyone, any time of the year.

The Goodman Group wishes you and your loved ones a safe, peaceful, and joyful holiday season.