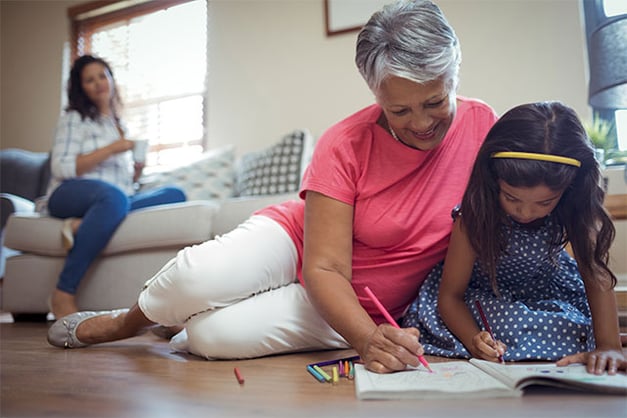 Everyone knows that going outside, getting exercise, and eating right is good for your health, but what you might not know is that, according to many researchers, creativity also has a positive influence on your mind and body. The Mayo Clinic says that creativity fosters communication and expression and that engaging in creative activities offers opportunities to heal your mind and stimulate cognitive function.
Thinking creatively and doing simple art activities is beneficial for people of all ages. Creating art, in whatever form you choose, strengthens brain resilience, in turn helping to prevent memory loss. That is why we have come up with five accessible, creative, and stimulating activities that you can do with your grandchildren. Because what better way to engage in creativity than together with those you love?
1. PRESS FLOWERS INTO ART
Pressed flowers are a beautiful way to freeze moments in time. The process from start to finish is an activity that children and seniors alike can enjoy. Head to the local farmers market, grocery store, or pick some flowers from the garden outside. Once the floral specimens have been collected, arrange them between two sheets of wax paper. Place a weighted object on top of the flowers and leave them to press overnight.
Once the flowers are completely flat, the real art project begins! The flowers can be laminated and used as bookmarks, coasters, put in photos, or added to greeting cards for decorative flare.
2. CREATE GREETING CARDS
A homemade card is an excellent way to let your loved ones know you are thinking about them. Through words, bright colors, ribbons, or even stickers, sending a heartfelt message to a person who may need a little love is an activity everyone enjoys - no matter how old or young they are. Cards can be made just because, for a holiday, or for a special occasion.
3. BUILD YOUR OWN TERRARIUMS
Looking for an activity that brings the outdoors in? Building a terrarium can do just that. It is incredibly fun to venture outdoors and pick up beautiful bits of nature. It is as simple as deciding on a theme and letting creativity take over from there. Want to construct a fairy home? Start with collecting some moss, a few sticks, dirt, and perhaps a pretty rock. Add in a fairy figurine (or dinosaur, horse, car, etc.) and watch as your terrarium comes to life.
The fun continues after the creation process because you and your grandchild can talk to each other about how your terrarium is doing and if either of you decide to add anything new to them!
4. TRY COLORING BOOKS FOR ADULTS AND KIDS
Seniors and kids can find joy by expressing themselves through paintbrushes or markers. Recent studies have shown that coloring can help calm the mind, regardless of the medium. Coloring books, for example, bring focus toward filling in patterns and shapes with color, which is thought to calm the brain.
If a mistake is made, no big deal! Flip to the next page and keep coloring.
5. SEW A REUSABLE HEATING BAG
A great activity that keeps on giving is a heating bag. Using fabric (an old pillowcase sewn in half will do) and some rice, and anyone can make a microwavable heating bag. Seniors can use it to relieve aches and pains while children may find it reminds them of getting a warm hug when they hold it close. Add a few drops of essential oils and the heating bag can now be used as an aromatherapy tool.

BENEFITS OF THINKING CREATIVELY
Creative expression is an excellent catalyst to try new things and to explore who you are, no matter your age. Associate Professor of Psychiatry at the Mayo Clinic, Daniel K. Hall-Flavin says that "Experiencing the arts has the added benefit of stimulating your brain centers and impacting your cognitive functioning." So while art activities are fun and leave you with a finished product to enjoy, their benefits for cognitive functioning should not be overlooked!