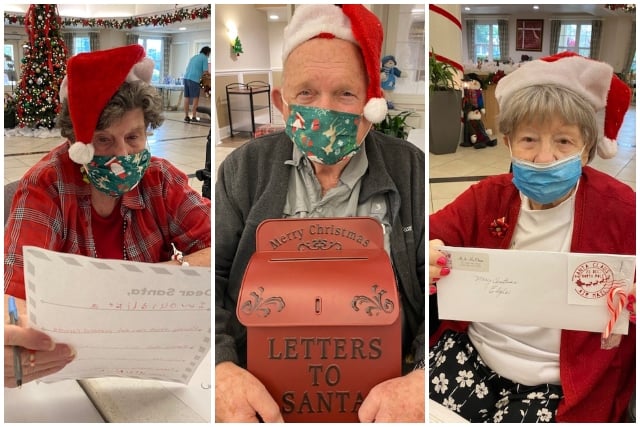 Prior to the COVID-19 pandemic, residents and team members at Cypress Palms, a senior living community on The Palms of Largo campus in Largo, FL, managed by The Goodman Group, frequently welcomed visits from the children of The Learning Center, a day care and preschool also located on the campus. Last Christmas season, residents at Cypress Palms wanted to send a little "holiday magic" to the children of The Learning Center. They picked up their pens, donned the role of the classic elder most beloved during this time of year -- Jolly Old St. Nick -- and responded to "Dear Santa" letters. This year, the magic continues, as residents gathered on Thursday, Dec. 9, 2021 for their 2nd Annual "Dear Santa" letter-writing event.
We spoke to Jessica B., life enrichment director, and Briana W., spiritual care director at Cypress Palms about organizing this heart-warming project. "We really wanted to maintain the intergenerational involvement over the holidays," said Jessica, "even though the kids haven't been able to come over to the community in person."
SENDING LETTERS TO THE "NORTH POLE"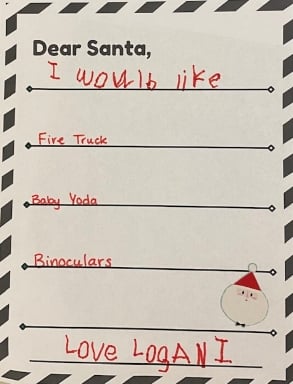 Within the community, many residents frequently volunteer through their Random Acts of Kindness group, and when the opportunity to write "Dear Santa" letters arose, they were excited to participate. "Our residents are all about the children," Jessica explained, "Some even worked as elementary school teachers for their careers."
With the help and cooperation of The Learning Center team, the children, whose ages range from 8-weeks to 5-years-old, either wrote letters requesting what they wanted for Christmas or shared their wishes with their classroom teacher. Along the letters' edges, teachers encouraged the kids to draw pictures and illustrate what they wanted. Given the age groups, the teachers helped with the final edits, for clarity. "Sometimes, teachers need to translate a little," explained Jessica.
With letters written and sealed, each child dropped their letter into the official "Dear Santa" mailbox, to be whisked off to the "North Pole" straightaway.
RESIDENTS PICK UP THEIR PENS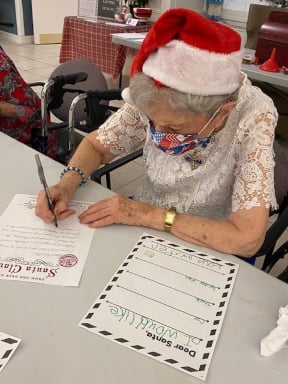 For the residents, reading the letters and responding is their favorite part of the experience. "The letters are so fun to read," said Briana. "The residents each put their own personality into the letters, and really got into the Santa Claus character."
The children's most notable requests included: unicorns, dinosaurs, diamonds, "a real lion", and "A baby, but not a real baby." (Copies of the letters were also sent to the children's parents and caretakers, to avoid any surprises!) Then, the residents and team members sealed the response in an official envelope, complete with a North Pole return address and stamp, and attached a candy cane to the envelope for the children to enjoy.
A REMINDER TO 'KEEP BEING GOOD' ALL YEAR ROUND
Reading the letters brought laughter and smiles to the residents, and it also stirred up many memories. "It made them think of their own childhoods," said Jessica, "and of their own kids and grandkids. They talked about their past holidays, traditions, and even dressing up as Santa in the past."
Even when they're not playing Santa, residents strive to give back and support their community inside Cypress Palms and beyond. "In the letters, they reminded the kids to 'keep being good'," explained Briana. "Amidst changes and uncertainty, I know the residents really love giving back and feeling that sense of purpose."