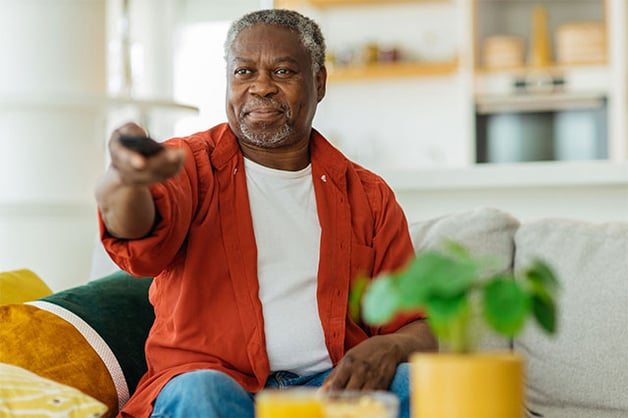 Retirement is the time when seniors can finally kick back and relax. But not too much – you have to stay active in mind and body in order to make the most of your retirement years. Streaming services bring entertainment and lifelong learning opportunities right into your home, whenever the time is right for you. So what are the best movies and TV shows for seniors to watch via streaming?
Older adults are just as diverse as younger generations, and you might say seniors have broader interests and preferences thanks to more life experience. What appeals to you in the way of movies or TV shows might not be number one on someone else's list. With streaming, everyone gets exactly what they want, whether it's nostalgia or the hottest trending series and releases.
To add additional context to this blog, we spoke with Life Enrichment Director Jessica, CTRS, at Cypress Palms at The Palms of Largo in Largo, Florida, to understand how streaming services are used in communities managed by The Goodman Group.
With that in mind, here are some of our recommendations.
BEST MOVIES FOR SENIORS
Driving Miss Daisy – is a sweet and inspiring story seniors can relate to, but also a good movie to

watch with the grandkids

I'll See You in My Dreams – it's always good to remind ourselves that it is never too late to start over and that humor makes life more enjoyable
The Last Laugh – Richard Dreyfuss and Chevy Chase put their own take on "active" retirement
Wizard of Oz – who can resist taking this fantastical trip away from Kansas yet once again?
The Pink Panther – and who couldn't use another dose of Inspector Clouseau's unique brand of detection?
Maybe you'd prefer a documentary about history or animals. Perhaps you'd enjoy traveling around the world without leaving your favorite chair. Is Shoot 'Em Up more your speed, a science fiction saga, or a movie that brings out your inner avenger? Once again, classics hit the mark with seniors – Netflix says these are the most popular:
White Christmas
The Professionals
Bonnie and Clyde
The Dirty Dozen
Dirty Harry
Taxi Driver
Apocalypse Now (and Redux)
Blade Runner
There are thousands of movies to choose from. If you need inspiration, this list of 100 top selections for seniors also tells you where to find them on streaming platforms.
Residents at Cypress Palms have ample opportunities to watch and enjoy any of these classics. "We have two movie watches every week," shares Jessica. "On Sundays, there are matinees which tend to be the more classic movies, and then we show more modern movies on Thursday nights. We have the days separated as such to try and accommodate everyone's preferences!"
Outside of the two showings a week, Cypress Palms residents can partake in a movie club where they get together, choose a movie they would like to watch, and then stick around to discuss it afterward.
There are even religious or faith-based movies for residents to watch. The spiritual care director at Cypress Palms hosts a once-a-month movie night around a faith or spiritual-based film. "The movie always has a takeaway that provides great, thought-provoking conversation," comments Jessica.
POPULAR TV SHOWS FOR SENIORS
Shows are also an excellent form of entertainment to take advantage of on streaming services. Here are a few destined to please the masses!
Downton Abbey – older generations had "Upstairs, Downstairs," and Downton Abbey has proven equally captivating
Grace and Frankie – two older women strike up a surprising friendship with surprisingly funny results
I Love Lucy – is still laugh-out-loud funny after all these years, even if you've watched these episodes so often you can recite the dialog
The Crown – a timely opportunity, this series dramatizes the personal and public life of Queen Elizabeth II from the 40s to more recent times
The Universe – explore space, planets, and other astronomical phenomena with world-class experts
It's no secret that many high performing TV shows take after bestselling novels. It can be fun to watch and read both to try and spot differences!
"In our Book Club, a lot of the bestselling books that we read were already adapted as TV shows or movies," notes Jessica. "So after reading the book, our group gets together to watch the TV show or movie to compare and discuss the similarities between the screen and book versions."
MUSIC TO YOUR EARS
When we think of streaming, we usually think of movies and TV shows. But who needs pictures all the time? Streaming music is popular with all ages, and listening affords extra benefits for seniors. The five top music services for seniors are Apple Music, iTunes, Spotify, Pandora, and YouTube Premium. Not only do they offer a vast range of music, but you can also listen to podcasts.
Streaming services, especially YouTube, have been a great addition to Life Enrichment activities at communities managed by The Goodman Group. The versatility of the service enhances programming for residents dramatically.
Whether you prefer to watch or listen, streaming services offer more than enough variety in movies, TV shows, and music to keep you entertained for a very long time. The hardest part will be deciding what to choose next.