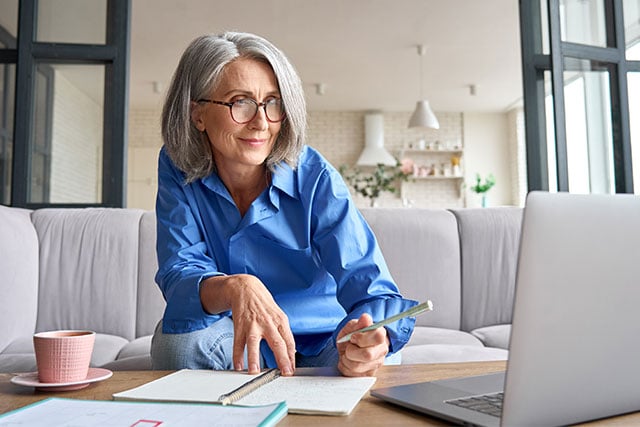 Aging presents itself with a variety of opportunities for individual growth and continued development. After retirement, some people fear that aging might be isolating, but it doesn't have to be. In fact, with more free time and after a career of hard work, many seniors find they now can fill their lives with activities they love and are able to explore new interests! There are a wide variety of resources that foster lifelong learning and hold the key to unlocking avenues of enrichment. MasterClass, The Great Courses, and local community centers are three great options for seniors to expand their knowledge in areas of interest.
Lifelong Learning Resources and Why it Matters
MasterClass, The Great Courses, and Virtual Learning
What is MasterClass or The Great Courses? Well, these are two examples of virtual learning opportunities seniors can take advantage of to engage their minds. In fact, the more you can challenge your mind, the younger you may begin to feel. There is research that supports lifelong learning and its benefits to cognitive health. Neurosurgeon and CNN Chief Medical Correspondent Sanjay Gupta, MD reports that "the brain remains plastic throughout life and can rewire itself in response to your experiences". All of this to say, lifelong learning can slow or prevent cognitive decline. The process of creating new neurons and neurological connections occurs when a person learns something new. Some categories MasterClass and The Great Courses cover that can achieve just that include:
Arts & Entertainment
Business
Community & Government
Food & Wine
Health & Fitness
Home & Lifestyle
Hobbies & Leisure
And many more
Presented in a variety of ways (video, lecture, and independent study) both resources have enough information for seniors to gain expert knowledge by the end of the course. MasterClass offers courses led by industry experts and celebrities to make the process of learning even more enticing.
Community Centers
Getting involved with community-led programs is an excellent way for seniors to engage their minds and make new friends. Common classes or activities that are held at community centers include but are not limited to:
Arts and craft classes: Learn a new medium and make friends at the same time! The knowledge (and friendship) is then transferable to use back at home.
Volunteer and civic engagement opportunities: Become involved within the community and experience life from a different perspective.
Gardening clubs: Exchange knowledge about vegetation and the best ways to cultivate growth. What a great way to meet friends, learn something new, and be outside!
Several community centers are offering virtual opportunities if meeting in person is not feasible. Simply look on local community center websites to see if this option is offered.
Additional Engagement
Opportunities for learning don't necessarily need to come from a class, club, or course. Maybe instead, it's establishing how to have a better relationship with oneself. Many seniors have spent the majority of their lives looking after other people, but now can be a time to prioritize your own needs and wants.
Relearning how you care for your body and mind is okay, and necessary, in order to prioritize personal well-being. It may be challenging, but the payoff is well worth it. Longevity and increased well-being can be achieved by spending time outside, exercising, journaling, having proper nutrition, and getting adequate sleep. This is not an exhaustive list, but it is a great place to start. The different stages of life require attention to different areas. It is important to continue to learn how to best prioritize self care to ensure a happy, healthy, and long life.
The practice of lifelong learning can be achieved by following a variety of avenues. Pick something that sparks interest and dig in deep! Because after all, is there really a downside to learning new things?