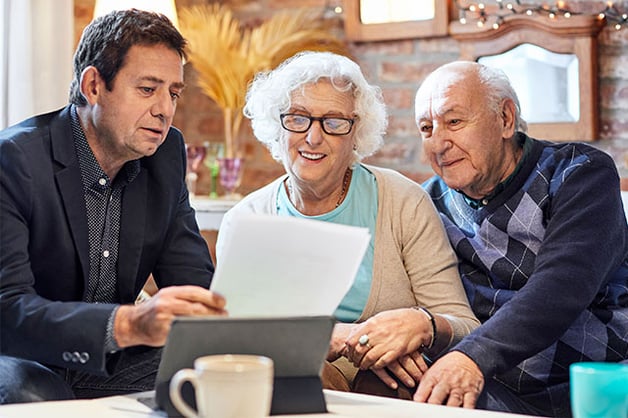 Memory care can be incredibly helpful to a family. It can provide a loved one with a safe environment and the support and care they need in a way that is both compassionate and professional.
Part of helping your loved one make the transition to memory care is exploring the best way to pay for it. Here are some of the most common approaches families take and some pointers to consider with each option.
The first thing to remember is to work with a reputable financial institution to ensure you understand all terms and fees involved. It's also important to talk with the team members at a memory care community so you understand what services are included, what care offerings are available à la carte, and how the billing will work. The following is only a suggested list of potential ways to pay for memory care. We encourage you to speak with a financial professional before implementing any of these options to determine what is best for you and your family.
Using Personal Assets
A common way that residents in memory care communities pay for their care is by relying on their assets, such as savings, 401(k)s, stocks, pensions, and bonds. It's best to work closely with a financial planner or tax advisor as you consider these options. Depending on the type of investment, there may or may not be tax implications.
The transition to memory care is a good time to look at life insurance policies and decide if they should be kept or sold.
Money From a Home
For many families, their house is the biggest asset they have. It can be a great financial resource to pay for memory care, and this is often one of the first things care providers consider.
There are some things to keep in mind with this option, though. First, you'll want to talk with an experienced real estate agent about the current market conditions in your loved ones' area and what you can expect in terms of proceeds from the sale.
It's also important to keep in mind that selling a home will likely take some time—typically at least a few months—so this may need to be considered with other options if you need to access money more quickly.
If your loved one owns a home outright, you can rent it out and use the income to help cover care costs. This option can provide a steady stream of income, but it also comes with some responsibilities—you'll need to find reliable tenants, manage the property, and deal with repairs and maintenance issues.
If one of the homeowners is 62 years of age or older, the home may be eligible for a reverse mortgage. With a reverse mortgage, a person can stay in their home while they sell the equity by receiving regular payments over time. The funds from a reverse mortgage can be used for any purpose, including a memory care community.
There can be an immense emotional attachment to a home. Discussions about downsizing can be challenging. It's common for caregivers to experience a sense of guilt and it's important to practice self-care when going through this transition.
Tax Considerations
There are a few tax credits that can help offset the cost of memory care. The Elderly or Disabled Tax Credit is available to those who are 65 years of age or older, or who are disabled and living in a long-term care community.
Part of the costs of a memory care community can be tax deductible. In order to qualify, your loved one must meet the following criteria:
They must be unable to perform at least two activities of daily living without assistance, or they must have a cognitive impairment that requires supervision.
They must have a written plan from a licensed healthcare professional that details the need for memory care.
If your loved one meets these criteria, their memory care costs may be tax-deductible. To claim the deduction, you will need to itemize your deductions on your tax return.
Other Assistance Options
Some states offer assistance programs that can help cover memory care costs. These programs typically have income and asset limits, so you'll need to check to see if your loved one qualifies.
There are a few organizations that offer loans specifically for caregivers. These loans can be used to cover the cost of a memory care community and typically have low-interest rates and flexible repayment terms.
Some nonprofits offer financial assistance too. However, these organizations typically have specific eligibility requirements, so you'll need to check to see if your loved one qualifies.
Medicare, Medicaid, and Veteran Benefits can help with things like medications, in-patient care in a hospital, adult day care, or in-home respite care. However, these programs typically do not cover the cost of moving to a memory care community.
Helping your loved one make the transition can feel overwhelming. It's wise to ask for help from others who are familiar with the process and can support you. This could include your loved one's financial planner and certainly should include the staff at the community where they'll be living.
The Goodman Group's managed senior living and health care communities are well-familiar with the journey that caregivers traverse when helping a loved one move into the next stage of their life. If you'd like to speak with one of the team members, please reach out and we'd be happy to answer any questions you have.