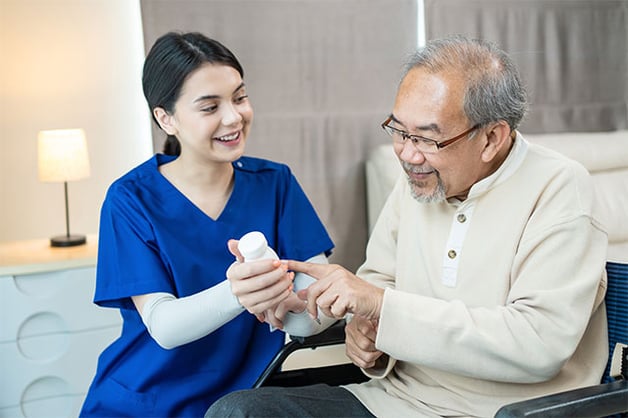 Medication management is an essential service provided within senior living communities. As we grow older, our bodies begin to change – our brains are not exempt from changing, either. Forgetfulness often accompanies the aging process. Simple tasks, such as taking medications, may be done off-schedule or downright forgotten. It is critical for your loved one to receive their medications at the right times. Medication management within senior living communities helps ensure your loved one is receiving the correct medication, the correct amount, and at the correct time.

Medication Management: Release Form
If you are looking into senior living communities for your loved one, you will be asked to fill out a HIPPA (Health Insurance Portability and Accountability) release form. This allows you to begin the formal documentation process of accessing all prescribed and recommended medications your loved one is taking. The complete medication list will need to be provided to the senior living community during the application process. Physician signature is required for:
Vitamins and supplements
Over-the-counter medications
Prescription medications
With this information, your loved one's prescriptions can be filled or altered as needed by the community's onsite physician. Or, in Assisted Living, it allows for the nursing staff to contact the resident's physician to request changes as needed.
Medication Management: Communities Managed by The Goodman Group
We spoke with Director of Clinical Revenue Kristi, RN, as well as National Health Services Director Susan, RN, at The Goodman Group to learn how medications are managed within Assisted Living, Skilled Nursing, and Memory Care at communities managed by The Goodman Group.
Senior living communities allow residents to self-administer medication if assessed to be safe to do so. Due to the nature of Memory Care, residents are not safe to self-administer their own medications. Instead, they rely upon the managed community's trained team members to manage their medications.
Kristi shares that all team members who assist or administer medication must complete a medication competency test. "Even if they are a certified nursing assistant, they still must be oriented to our eMAR (electronic system of passing medication). There are certain medications that require a nurse to administer, such as injections, in which case only licensed individuals can administer those medications."
Regardless of the level of care, all team members who assist with medications are required to complete the medication competency test. So does that mean all levels of care – memory, assisted living, and skilled nursing – require medication management? " In Assisted Living, self-administration is allowable as long as the resident is capable of doing so. A 'Self Administration of Medication' assessment is completed by a facility nurse through an interview with the resident. The outcome of this assessment will determine if the resident may safely self-administer their meds in the Assisted Living setting.", comments Kristi.

The assessment has residents identify the name of their medications, when they should be taken during the day, by what route, and at what dose the medications are to be taken.
"It's helpful if they know why they're taking medication, but it's not as essential as being able to recognize the medication and when they need to be taking it," adds Kristi.
Of course, if residents at our assisted living communities would rather have their medications managed for them, they can elect that option, too.
There are more regulations in place in skilled nursing compared to assisted living communities. Here, all medications must be locked up securely and documented when taken, "...even if that's eye drops, Tums, ibuprofen, or Tylenol" explains Susan. Additionally, every medication must be approved by the doctor first. Residents must complete the self-administration assessment and deemed safe to administer their own medication.
"Even if they pass the self-administration assessment, the doctor still has to give permission for the resident to be able to take medications themselves." Medications provided at this level of care can often interact poorly with one another, which is why there is a two-step check for residents who are interested in managing their own medications.
Medication management is a critical component of the health and safety of your loved ones. If you have additional questions on medication management or would like more information about services provided by The Goodman Group and its managed communities, we would be more than happy to connect.