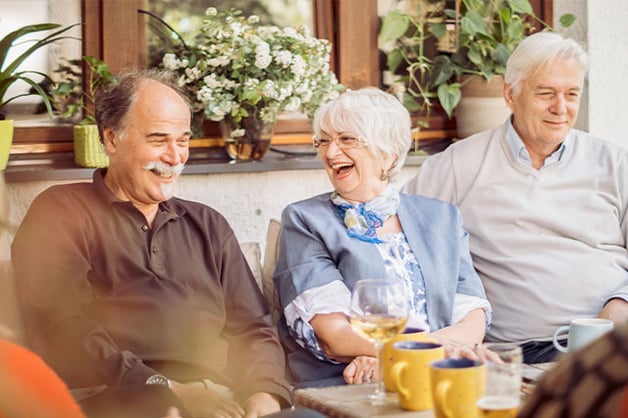 Life is full of important transitions, and these major moments become more manageable when you understand what to expect. Like welcoming a newborn child, sending them off to school for the first time, graduating, and retiring, times of change are woven into the fabric of our lives.
When a loved one moves to a senior living community, this, too, is a major moment filled with a range of emotions. Although you may initially feel uncertain, many people discover that the transition into a senior living community offers many benefits and opportunities for happiness and joy.
Let's take a closer look at what to expect when a loved one embarks on this new chapter.
Feeling Welcomed and Making New Friends
Many senior living communities have thoughtfully designed move-in programs to welcome and support new residents. Oftentimes, these programs are spearheaded by other residents, who understand how to make new residents feel at home and welcome them into the community.
That's certainly the case with the Resident Ambassador program, which is offered in all communities managed by The Goodman Group. June, one passionate resident ambassador at The Residence at Timber Pines in Spring Hill, FL, loves stepping up to be involved in welcoming new residents, acclimating them to the community, and introducing them to team members and fellow residents.
"I'm an organizer," explains June, with a smile. "'Busybody' is probably what you'd call it: If I see a need, I'm liable to step in and fill that need."
Building relationships with fellow residents often makes moving to a senior living community a rewarding, social, and uplifting experience.
Gaining Independence and Confidence
One aspect of moving into a senior living community that initially surprises many seniors is the amount of time they spend doing activities they enjoy. After decades of handling the multitude of responsibilities that come with managing a house or property, the feeling of handing off these tasks comes with a breath of independence and confidence.
At their new community, your loved one can devote their full attention to taking a class, meeting interesting people, or tackling projects they've dreamt about doing for years – like writing a memoir, developing a spiritual practice, or joining a volunteer committee.
Tina V., regional director of life enrichment for The Goodman Group, says that resident committees work together to plan meaningful, purpose-focused initiatives.
"One of the managed communities wanted to raise money to buy diapers and formula to donate to a women's shelter," Tina says. "Every week they put on a bake sale to raise the money. They purchased the donations and delivered those gifts."
Staying Active and Involved
Being surrounded by a community of health-focused peers and trained team members often motivates seniors to integrate both mental and physical fitness into their day-to-day routines. Research shows that maintaining cognitive fitness helps seniors to stay sharp, and taking time to find a type of physical exercise that one enjoys makes working out fun.
That's why many senior living communities offer a range of programs and resources to support seniors in finding the right fitness balance for them. Whether it's trying tai chi, getting out for a daily walk, exploring nearby attractions, or building strength and flexibility through yoga, your loved one may be surprised at how strong and supported they feel.
Looking Forward to a New Chapter
Seniors in a well-managed, reputable senior living community have the opportunity to participate in many activities and outings that might not have been possible while they were living in their previous homes. From receiving help with medication management and activities of daily living to participating in community groups and meeting new friends, moving to a senior living community is a new experience that comes with a host of benefits.
Team members at communities managed by The Goodman Group are always available to talk to you and your loved one about the experience of moving to a senior living community. Please don't hesitate to reach out with any questions.