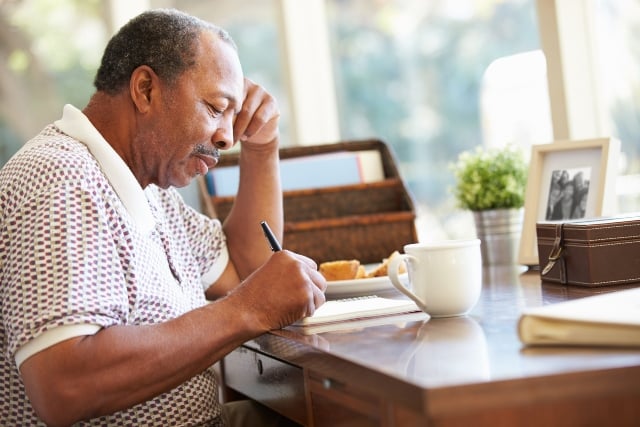 Our lives are filled with moments that we look back on and savor. As we age and accumulate experiences, it can be beneficial to pause and reflect on the important days, decisions, and all the twists and turns that shaped us into who we are today.
Many seniors find that taking the time to record their life experiences – whether written by hand or typed on a computer – can be a deeply rewarding exercise for the mind and spirit. Researchers at Harvard University have found that engaging our brains to write our life stories is an act of cognitive fitness and reduces tension and anxiety.
However, when facing the prospect of recording your life, it may feel challenging to know where to begin! We've put together a list of five ways to start reflecting on your past and beginning the process of recording your legacy. Remember, there is no right or wrong way to approach this endeavor. Memoir writing, or life story writing, is an art, not a science, and your process will be as unique as your life has been.
1. START BY REFLECTING ON IMPACTFUL EVENTS
Set a timer for one hour and write down important life events – your birth, geographic moves, educational experiences, jobs, getting married, having children, vacations, etc. You might also include moments of loss, transformation, or upheaval. You don't need to record everything – try to include the events that loom the largest in your memory.
When you have recorded the events, try to recall the '5 Ws' (Who, What, Where, When, & Why) relating to each event to help fill in details and go deeper into that experience.
2. THINK ABOUT THE BEST ADVICE YOU EVER RECEIVED
The people in our lives and our relationships are frequently what have made our lives meaningful. Mentors or those we admire and care about hold great sway in shaping the arc of our lives.
Bring to mind words, advice, and wisdom that left a mark on you in your life, and use these as an entry point into your past. Ask yourself, Who said this to me? Where was I? Was there a decision to be made? How did it alter the course of my life?
3. LISTEN TO YOUR INNER VOICE, AND USE IT
Some people think that writing needs to be done in a formal voice, but don't fall into this trap! Your memoir is all about you. You are sharing your unique perspective of the world, and so your account will be all the more authentic if your voice shines through in your writing. Consider famous works like Pulitzer-winning Angela's Ashes by Frank McCourt or My Brilliant Friend by Elena Ferrante, a fictionalized account of her real life. It's the phrasing, the slang, and the truth of the character's voices that bring these stories to life. Ask yourself, Are there phrases and expressions that I use frequently? What about interesting words or turns of phrase that others associate with me?
Listen to your inner voice, use it to guide your writing, and the story will ring true.
4. OBSERVE YOUR "SOUVENIRS"
You have likely collected an assortment of belongings in your life. While some objects come and go, others we can't bear to part with. Why? Look around at the belongings you have chosen to keep. More than likely, the possessions that have been with us for years or decades will bear emotional weight. A necklace from your grandmother, photographs from your wedding, a silk scarf from a far-off land – use these objects. Ask yourself, Why have I held onto this? What does it mean to me? Who gave it to me?
There's a reason why we collect souvenirs from travels – they serve as reminders of a person, place, or event. Your most intimate belongings are the souvenirs of your life.
5. EMBRACE YOUR SENSES
Close your eyes and imagine you are in a significant place from your past. Your childhood home, your university lecture hall, or perhaps it's the day of your eldest child's wedding. Think through each of your senses. Ask yourself, Is there a smell? What do I see? What do I hear? What am I and those around me wearing? What is the temperature like?
BENEFITS OF WRITING YOUR LIFE STORY
In addition to being an act of creative expression, memoir writing is an act of engaged, intentional, self-reflection. Reflecting on your life allows you to breathe meaning into your experiences, connect to your past, and leave a gift for the future, all while strengthening your mind.
Every person has a unique life story to share. As you revisit your memories, be kind to yourself. There will be moments where you may feel happy, sad, or bittersweet. Try to relax and enjoy the process. Whether you decide to pursue this exercise just for you or to share with your loved ones, reflecting and recording your life will be time well spent.