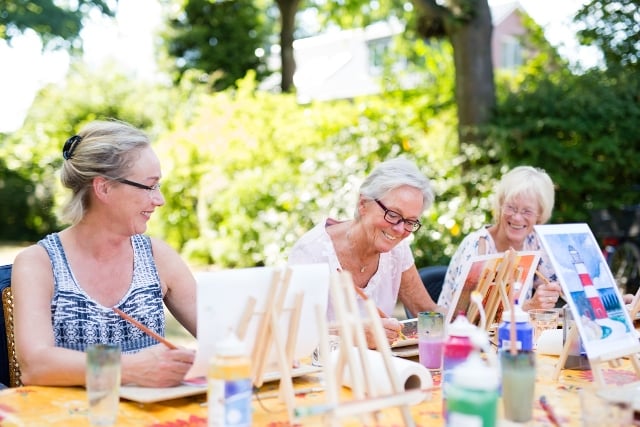 As the Beatles said, each of us needs to "get by with a little help from my friends." However, as we age, it can become increasingly difficult to maintain existing friendships and cultivate new ones. This becomes more challenging after retirement age when we no longer interact with coworkers daily or need to leave our homes as often.
The importance of friendships and community cannot be overstated. In fact, one Harvard research study of men 20 to 80 years old found that relationships are a far greater determinant of health than career success and material wealth. Other significant health benefits of being part of a social circle and community have been widely proven and well-documented. These benefits range from better physical health, cognitive health, and lower risk of dementia.
Staying Active and Engaged With Others
Many older adults discover that one of the greatest benefits of residing in a senior living community is the opportunity to socialize and build friendships with fellow residents and team members. This comfort was acutely felt throughout the COVID-19 pandemic, as many seniors struggled with loneliness and isolation due to stay-at-home orders and adhering to social distancing protocols.
Sylvia W., a resident at The Commons on Marice in Eagan, MN (The Commons), expressed relief that she moved to the community when she had the chance. "I've asked myself lately, 'What if I had stayed in my house and not moved into The Commons, when I did, four years ago?' I would have been all by myself, during this pandemic, and afraid to go to the store with COVID-19 prevalent and wondering how to fill my hours and still stay safe. Thank Heavens I came here! Thank Heavens I have this beautiful home to live in with tons of friends who are residents and staff!"
How a Senior LIVING Community Promotes Social Connections
Residents living in senior living communities benefit from a multitude of lifestyle, programming, and service offerings. In addition to maintaining strict sanitation and cleaning protocols, trained team members support residents by offering assistance with activities of daily living (ADLs). Additionally, much attention is devoted to planning programming that promotes physical and mental health – from FIT Functional Fitness® to cognitive health coaching, to cultivating a fun, stimulating culture in a healthy atmosphere.
Sylvia noted how much her quality of life has benefited as a result. "I've been continually amazed at all the clever and entertaining ideas our life enrichment team has come up with here. Each of [the team] has helped us from going crazy during the pandemic!"
"It's been so fun to get the daily flyers and sign up for activities," Sylvia said. "[The life enrichment team's] smiles and loving care are the best gift you have given us through this crazy year."