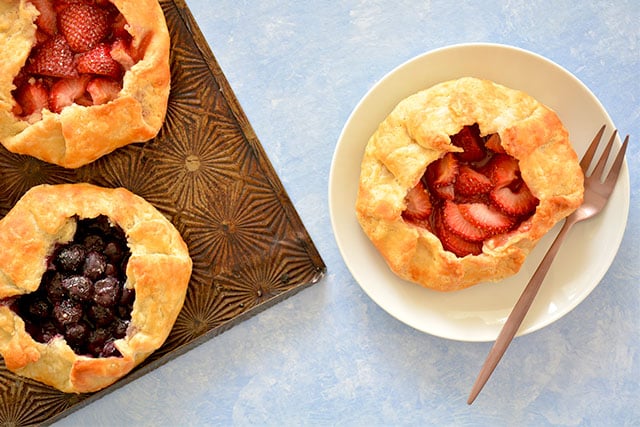 Who doesn't love a sweet treat? We all have different ideas about what constitutes a scrumptious dessert or snack, but we all know that too much of a good thing hinders our ability to maintain a healthy weight, especially as we get older. Controlling sugar intake can help seniors reduce risk of chronic age-related diseases such as type 2 diabetes, cardiovascular disease and Alzheimer's disease.
Fortunately, there are plenty of ways to satisfy your sweet tooth without overindulging in sugar or fat. These three treats are easy to make and temptingly delicious–definitely worth a try!
Fig Newtons
Fig newtons are a perennial favorite. They're easy to make and you can substitute other fruits if figs aren't your thing or you just want to change up the flavor profile.
Apple Cinnamon Crisps
These yummy snacks are perfect for anyone who loves the combination of sweet flavor and crunchy texture. For variation use pears instead, or replace the cinnamon with ground ginger.
Strawberry Mini-Galettes
Pies and tarts are delectable but also an open invitation to have "just another small slice." Mini-galettes solve that problem, and although this recipe uses strawberries, topping options are almost infinite. Store-bought dough makes these treats quick and easy, especially if you purchase ready-made mini pie crusts! You can press them into muffin tins or use them flat for tiny tarts, as in this recipe.
So, what makes these three treats especially valuable for seniors?
Portion Control
Mark Holmes, national director of culinary Operations at The Goodman Group, tells us the biggest thing for healthy sweets for seniors is portion size. "There is always a tendency to prepare as if the family is coming over," he says, "but they aren't coming over (at least not on the day you're making a pan full of brownies.) That leads to leftovers, which doesn't always sit well with a generation who hates to waste."
Smaller recipes reduce temptation. For example:
The fig newton recipe above makes just two servings. In fact, you can find numerous recipes online that feature desserts for two.
What does an apple crisp for one or two look like? Oatmeal in the topping adds nutrition, and you can cut back on the sugar and butter without losing its crispy, crumbly appeal.
The mini-galette recipe above makes 6, but you can easily divide it to make two or even just one. Or bake one with just a sprinkle of sugar, then top it with some low-fat vanilla flavor Greek-style yogurt and add your favorite sliced fruit.
For ultimate portion control, make just one! This mocha mug cake is mouth-watering, and it bakes in your microwave. This website is devoted entirely to recipes for one–not just desserts but all sorts of dishes!
Baked goods are great candidates for freezing if you're making a half dozen or more of them. Bake larger recipes of brownies, cake, etc. in regular or bite-size muffin tins for appropriate portions and easy individual freezing. Bonus tip: you can freeze cookie dough, too, in smaller portions for baking just a few at a time.
Healthier Ingredients
Some sweets are just naturally better for you, proving that treats don't have to be laden with fat and sugar to be tasty and satisfying. Fig newtons, apple cinnamon crisps, and other fruit-forward treats are also healthier because the fruit provides both nutrition and sweetness. Oatmeal and nuts add fiber and protein–and textural interest, which also pleases your palate.
Nothing beats fresh fruit in season. Dark color fruits such as strawberries, raspberries, and cherries are high in antioxidants as well as other nutrients. So is dark chocolate–just the ticket as a key ingredient or shaved over a parfait of fruit and low-fat yogurt.
If you have a special hankering for strawberries or blueberries in the middle of winter, grocery stores now carry an amazing variety of fresh-frozen fruits ready for you to delve into. These tidbits make great frozen treats in the summer, or you can thaw a few at a time to make a serving or two of some fruit-healthy dessert. You can also freeze your own fresh fruit for future sweet snacks.
So many tasty choices! Which healthy sweet will you try next?