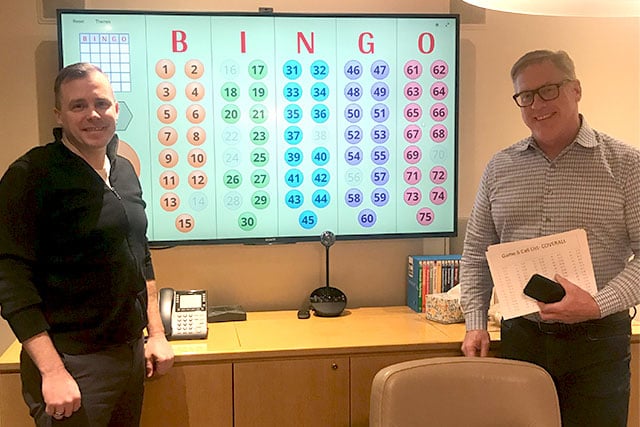 Senior living and health care communities managed by The Goodman Group are known for their robust calendars. But there's nothing quite like a good ol' fashioned game of group bingo – and of course, we have that, too! Recently, we've modified the way we play due to coronavirus concerns, and we haven't let it stop our fun. It's just inspired us to get creative – so we've taken the game online to help residents play virtual bingo with friends and family.
Why Virtual Bingo is So Popular in Senior Living Communities
One of the most challenging outcomes of the coronavirus is not being able to be together for group activities. We want to provide residents with opportunities to stay connected while keeping them safe. While we all miss seeing our friends and loved ones in person, virtual connections are often a pretty good substitute – especially when you can gather around your favorite pastimes.
These days, people of all ages are taking part in virtual versions of classic games with friends. (Even celebrities are getting in on the fun – Matthew McConaughey actually dropped in to play virtual bingo with a group of seniors in Texas!) Unlike traditional online games where you're competing against strangers, people are now piloting new ways to play with familiar faces. A number of our communities are doing the same.
Our Spin on Virtual Bingo
Each senior living and health care community managed by The Goodman Group is trying something new when it comes to enjoying games virtually. For instance, The Residence at Timber Pines in Spring Hill, FL, started delivering personalized gift baskets to residents that contain fresh bingo cards for whatever type of round they're playing next. They keep the virtual part simple, too. Residents just have to dial into the same conference line at each scheduled bingo time, and they're ready to go!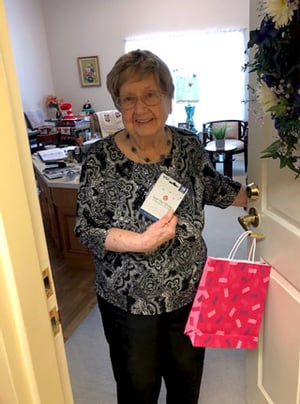 "We have definitely created a following," said Jordan T., the life enrichment director at The Residence at Timber Pines. "There were 30 or so people in the last conference call. So a pretty good turnout!"
That turnout included a special guest visit from The Goodman Group's Chief Executive Officer Craig Edinger, who surprised residents as the bingo caller during one of their most recent games.
"It was such a great opportunity to get in touch with residents and to witness firsthand some of the unique virtual engagement opportunities our Life Enrichment teams are incorporating," said Edinger. He donated some gift cards for the winners during his time as the caller.
Other times, Jordan says they've done gift baskets and have even taken suggestions from residents on how to mix up the winnings.
"The biggest thing is everything has to be safe and clean with COVID-19. So we do pass out bingo cards every week that can be disposed of. We're printing off every bingo card and delivering them to residents who want to participate," said Jordan.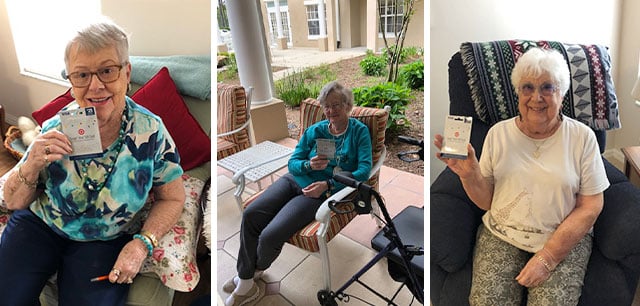 How to Play Virtual Bingo with Friends and Family
Virtual bingo is simple to set up and play. Here's how to get started:
Use free websites to print out bingo cards, or use your own. Since we're used to playing bingo in person, our communities already have plenty of cards to go around. If a real bingo cage is not available, try using a bingo caller website to announce the next letter and number.
Set up a web-connected camera and microphone for each player. A smartphone or a laptop will do just fine. Each participant, including the caller, should have their own device so they can follow along.
Connect each player to video chat, like Zoom or Google Meet, using their tablet or smartphone. Many of these services started offering a free version when the COVID-19 crisis hit, and they're super easy to use.
Play bingo! Just like the real deal, the caller (whether it's a staff member or a resident) calls off the winning letters and numbers. Residents can mark their winning cards and proudly shout "bingo!" for all their friends to hear. (As with any group video chat, these games occasionally lead to side chatter, but that's half the fun.)
Bingo is just one of many activities our managed communities are engaging in virtually. We've also enjoyed group discussions, family video calls and special programming, just to name a few. Regardless of the activity, our primary goal with any virtual hangout is to ensure residents are continually experiencing meaningful connections through this difficult time and foster that sense of unity – after all, we're in this together.