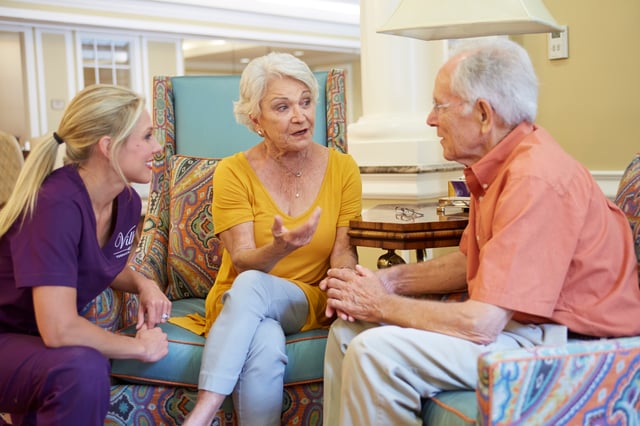 Today it's easier than ever to research and find the perfect senior community for yourself or your loved one. The amount of information that's out there is incredible so much so, that it can understandably feel like an overwhelming task. Don't worry. Once you break it down, the search for senior living can become more straightforward. Here are four steps to follow as you start the journey.
1. Start the Conversation Early
The conversation about making the move to a senior living community can be a positive discussion, and the sooner you start, the more time you will have to find the right community.
"It's a very tough time when you wait too long. It's probably the worst decision you can make," says Wendy, daughter of Margo, a Terracina Grand resident in Naples. "Have the conversation early when your parents can still tell you what they want."
Remember that beginning the discussion doesn't mean you have to make an immediate decision. It just gives you the time to be proactive and better prepared for the future.
2. Research Your Options
As you might guess, the internet is a good place to start finding out what senior community living options are available in your area. Not only are there websites for the communities themselves, but you can find a wealth of blogs, checklists, surveys, reviews, and testimonials to help narrow your search. A good way to begin is to search for "senior communities" and your city/state or ZIP code.
The internet isn't the only way to research your options. Here are a few more ideas to get you started:
Talk to friends, neighbors, and other family members about their personal experiences with senior living. It's always comforting to talk to someone who's been through the process.
Local senior centers are likely to have some good information and recommendations.
Check with your place of worship. They may be groups and counselors there who can help with your questions.
Your health care professionals can also answer questions and point you in the right direction.
3. Narrow Your Search
For Ginny, a resident at Terracina Grand, she knew the moment she walked into the community that it was the right fit for her. "It's just a feeling of knowing that you belong," says Ginny. "I felt like I was going to be able to meet people who I would be comfortable with and who I could relate to here."
Once you've had time to review your options, narrow your list based on the factors that are most important to you. These can include location and services, as well as cost and availability. Try to narrow your list of options to between three and six communities. Or, if you are like Ginny, go with your intuition!
"I think that it's important to understand what's included in the monthly rental," says Wendy. "Can you get assistance right where you live, or do you have to move to another building or even a different area in the same building? What amenities are included?"
4. Plan Some Visits
"My advice to families is to not make an appointment. Go unannounced," says Wendy. "See what's happening when they're not expecting you. Do people look engaged? Do they seem to have a high quality of life?"
Try to arrange a visit that's at least an hour — and more is better. You'll want to tour the community, talk to residents and staff, and possibly have a meal in the dining area. Be sure to spend enough time to get a real sense of the day-to-day workings and atmosphere of the community. If you haven't found what you're looking for within the first three visits, it's time to schedule the next three on your short list.
To find a community to help you on your journey, please click here.