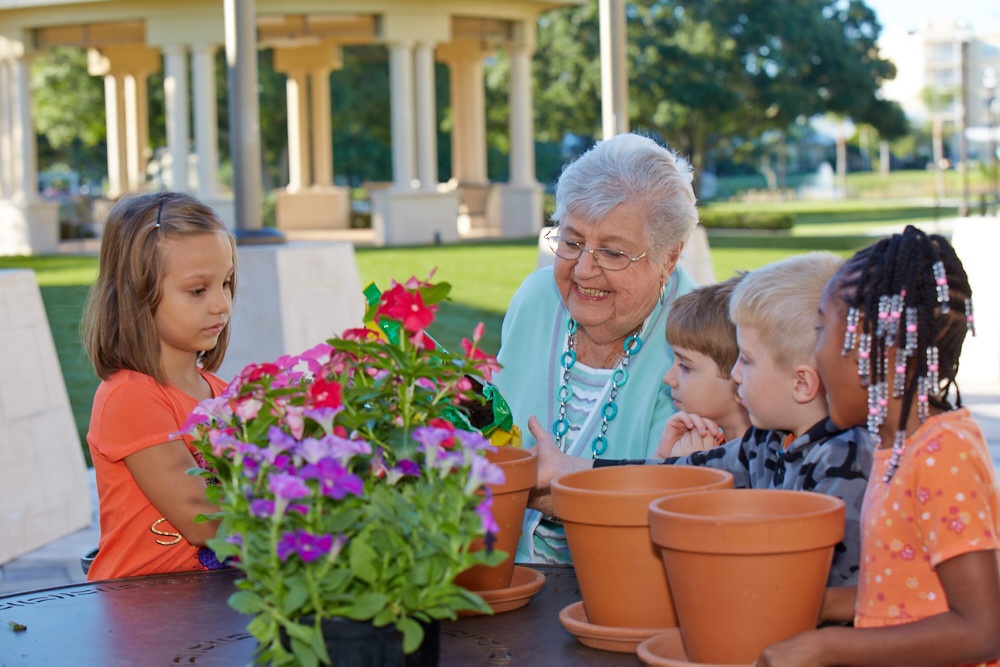 At The Goodman Group, we understand that transitioning an aging loved one from one home to another can be an intensive process. You want to find a place that meets all of their needs, a place that helps them feel safe and well cared for, and a staff who can make it feel like home. It's important to learn what the community is really like, and not just what appears in the brochure. So, what should you look for when deciding on a senior living community?
Different Kinds of Communities
For starters, there are many types of senior living communities. Some are for those with various medical conditions, and specialize in assisted living, nursing care, or specialized care for seniors with Alzheimer's disease or dementia. Check out all the types of communities managed by The Goodman Group.
Or, perhaps your loved one doesn't need assistance with daily living and is more interested in joining an active, independent living community.
Here are some things you and your loved one can look for when deciding on transitioning to a senior living community.
Visit the Community
When visiting a senior living community, you should have the opportunity to observe resident activities, talk with residents and team members, and examine the upkeep and curb appeal of your loved one's new home.
While visiting, you should:
Pay attention to the overall design and appeal of the community. Check the landscaping and interior décor to see if they are fresh and inviting.
Ask to see a model apartment, as well as an unoccupied apartment that is move-in ready.
Check to see if carpets, paint, and wallpaper are maintained, and that appliances are clean and updated.
See if the staff is friendly, smiling, well-groomed, and diligent. Do they interact warmly with the residents, or do they seem stressed or rushed?
Check the appearance and upkeep of the public restrooms — this is a good test of overall standards!
Enjoy a meal at the community for both you and your loved one. Not only is it a great way to sample the cuisine, but it is also a great way to meet some of the residents.
Ask about staffing patterns. How many staff members are actually involved in the residents' care? How many people are working at any one time? Are there Registered Nurses on site?
Look at the monthly schedule of events. Do the activities interest your loved one? Are they varied and interesting?
Are there adequate fitness areas within the community? The goal is to increase overall health and wellbeing, reduce the potential for falls, and encourage your loved one to remain active.
Lastly, don't hesitate to talk with the residents and ask how long they have lived in the community. Ask about their impressions.
Security, Medical Support & Convenience
Ensure the community offers all the personal and health services you currently need or that you are likely to need in the near future.
Are there hospitals and medical facilities nearby?
Do they provide in-home health services important to people living independently?
Is it in a safe neighborhood, with plenty of building security?
Are there safety measures for residents (such as handrails and uncluttered interior spaces)?
Is the community conveniently located for family visits?
Everyone has their own unique care requirements. Will your loved one's needs be met at this particular community?
Costs
Many communities have exorbitant entrance fees that are paid upfront to secure a spot.
Others allow you to reserve a spot without paying an entrance fee, such as The Goodman Group's communities. However, every community does include monthly charges to cover meal plans, health care costs, and other variables. Make sure you understand your total out-of-pocket expenses. Complete a lifestyle cost profile to see how your current cost of living compares to the expense of the senior living communities. Many times, moving to a senior living community is a more affordable option than maintaining a home.
Checklist to Consider
Here is a checklist of questions to consider when deciding on a senior living community for your loved one:
What should we expect at a senior living community?
Why is it the right move for me/us at this time?
What is the lifestyle like in a senior living community?
Wherever we live, would we continue to have involvement with friends and socialize?
What activities do we like to engage in?
Are we living purposeful lives now, or would we like to do more?
Are we healthy and mobile now, or do we anticipate needing help in the near future?
Do we still want to drive ourselves, or would we like to have the convenience of local complimentary transportation?
Do we need or would we like assistance with daily tasks and activities to add convenience to our lives?
What is our current financial situation?
Are we receiving all of the benefits to which we are entitled, such as Social Security, Medicare, Veteran's benefits, etc.?
You may have many other questions – or you may have already considered the implications of a move to a senior living community and are ready to make your decision. The goal is long-term satisfaction for you and your loved one.