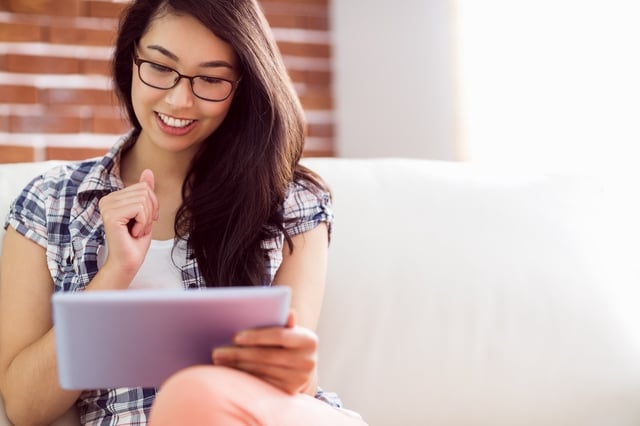 It's no surprise that caregivers need care, too. That's especially true for professional caregivers, as Katie, National Director of Life Enrichment for The Goodman Group points out. "In senior living and health care, there's a high percentage of stress and burnout in the workplace," she says. "That can lead to higher turnover, and we don't want to see that. We want to take care of our team members."
That's exactly why The Goodman Group began a pilot program using Wellscapes, a mindfulness program developed by the University of Minnesota Center for Spirituality and Healing.
Welcome to Wellscapes
The Wellscapes program uses the power of nature and sound to help relieve stress, elevate mood and improve overall wellbeing. It's a series of nature videos that can be combined with music, nature sounds or a gentle guided meditation. Each video is about five to seven minutes long and features seasonal nature photography. "Craig Blacklock is a well-known nature photographer in Minnesota. The images are stunning," Katie says.
The Pilot Program
The Goodman Group recently launched its pilot program with employees at The Commons on Marice, a senior living community in Eagan, Minnesota. The results are great so far, according to Katie. "The feedback is excellent," she says. "Almost all the employees — and it's voluntary — shared how appreciative they were to have these mindfulness resources available to them."
Employees who participate are asked to keep a journal of how they're using the videos, which are their favorites, and if and how they're beneficial to them. Based on the results, The Goodman Group plans to extend the program to other employees and residents.
How the Program Works
For the pilot program, The Goodman Group provided employees with a URL to access the
program on their personal devices. The app lets them have total control over when and how they use the videos. "They can look at just the nature images, they can have music playing with the nature images, or they can choose a combination video with the gentle guiding," Katie explains.
The mindfulness option offers gentle, voice-guided relaxation to help the viewer take a few moments to center and relax. "Team members can simply be in the present moment where they're able to take cleansing breaths and become centered, " Katie says. "Studies suggest it reduces anxiety, improves concentration, can help with depression and other symptoms."
The Wellscapes App
The best news is that Wellscapes is available as a mobile app to the general public. The first video is free and you can see sample videos here. If you like what you see, search for Wellscapes in your mobile app store.