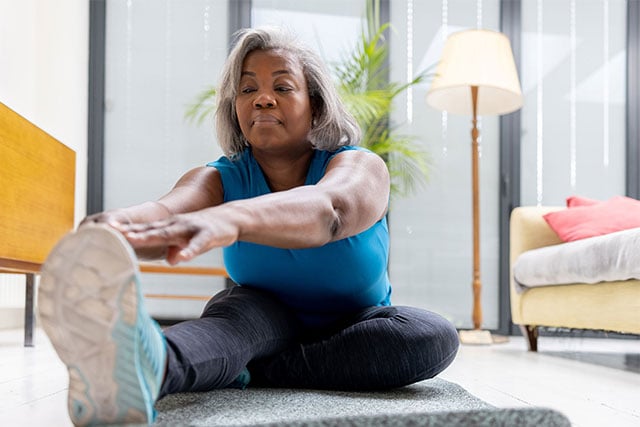 No matter your age, stepping up your exercise regimen is a good idea. Physical activity strengthens your bones and muscles, builds stamina, keeps you flexible, and improves balance. It also releases endorphins to relieve stress and boost your mood. However, for seniors, it's best to ease into a new program to ensure you are exercising safely. Overdoing it can cause an injury, and no one wants that.
Why Are We Talking About Safety?
The National Senior Games Association reminds us that certain factors can put seniors at risk while exercising. Aging can bring poor balance, lack of flexibility, and a generally greater tendency toward injury. Some older adults become more sensitive to heat and humidity or more vulnerable to flu and colds.
The good news is that, done properly, starting an exercise program can improve your balance and flexibility as well as your overall health. Talk to your doctor first to get help assessing your own level of risk. Your medical history and any specific current health concerns determine what types of exercise are best for you. Some may be particularly beneficial, and there may be things you should avoid.
Great Ways to Get Going Safely
The National Institute on Aging says seniors should spend at least 2.5 hours (150 minutes) per week on moderate-intensity exercise. You don't have to do it all in one day; in fact, that's not recommended. Instead, spread activity-based exercise over at least three days, and spend at least two days building strength with weight lifting, sit-ups—whatever is most appropriate and safe for you.
Set goals. That way you can celebrate and reward yourself as you reach each milestone. You can create a weekly action plan. This interactive activity planner helps you choose and customize activities that will be fun for you. If you're a tech fan, there are several apps you can use to plan and monitor your fitness regimen.
Tips to stay safe and get the most from your exercise:
Start with less-intense exercises first, and gradually ramp it up as your strength and stamina increase. Lower-intensity activities and stretching are especially good for improving flexibility.
Always warm up before starting, to get your blood flowing and help prevent injuries. Whether you're exercising indoors or outside, make sure the area around you is free of clutter or obstacles that could trip you up.
Wear nonrestrictive clothing and shoes intended for your type of activity. If you plan to exercise outdoors, choose a time of day that is cooler in the summer or warmer in the winter. If the weather looks inclement, switch to indoor exercises.
If your balance is iffy or you have limited mobility, there are many exercises you can do while sitting or lying down. Chair yoga is a popular example. These movements help build physical strength and also serve to focus and relax your mind so you get a total well-being workout.
Aqua therapy is another way to exercise that can be particularly beneficial for seniors. You can get a great cardio workout without putting any strain on your joints because the water makes you buoyant.
Drink plenty of water before, during, and after your workout. Even if you don't feel thirsty, you need to replenish the moisture your body loses while exercising. Hydration is especially important for seniors.
And if you need a little push to stick with your new exercise program, these five tips will help you stay motivated.