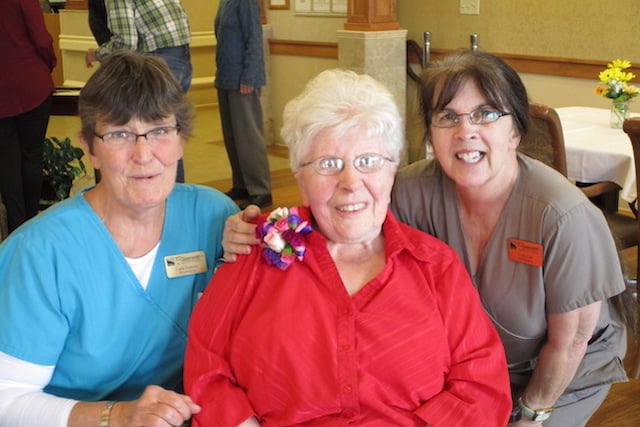 If you ever wondered about the benefits of volunteering, you can learn a lot from 92-year-old Iva Rose and 72-year-old Sharon, two lifelong volunteers with a shared set of values.
"It's really nice to do something without any expectations of repayment," Sharon explains. "My reward is so internal."
Iva Rose – "It Makes Me Feel Good to Help"
Iva Rose has been helping the staff ever since she moved to Riverside Health & Rehabilitation (Riverside) in Missoula, Montana, four years ago. "I had my right hip, right knee, and left knee replaced," she says. "I couldn't live at home anymore, so I made up my mind that this was going to be my home."
She started by volunteering to help with the community newsletter. "I did collating for various nonprofit organizations for years," she says. "When I came here, I told them I used to do that kind of work. I could help put out the newsletter."
Iva Rose folds, tapes and labels the newsletters. She also assists with the invitations for special events, such as formal dinners.
"The staff is very impressed with her," says Tammy, the activities director at Riverside. "I keep a volunteer file, and she has volunteered over 150 hours."
"It makes me feel good to help," says Iva Rose, who started volunteering for her church many decades ago and just kept adding organizations along the way. "The Humane Society, Meals on Wheels, the University of Montana, Missoula Youth Homes and Camp Make a Dream," she says. She was also a foster grandparent, and has done volunteer work for Missoula Aging Services for the past 31 years.
Iva Rose never married or learned to drive, so she always walked, rode a bike or took the bus to volunteer. "I was never one for crowds," she says, "but I just wanted to get out."
She has been rewarded for all of her hard work with two volunteer awards from the United Way and two more from Missoula Aging Services, but the real reward may be best measured in all of the friendships she developed.
"She's just friends with so many people in our community," says Tammy. "They threw a 90th birthday party for her almost three years ago, and they filled our dining room."
Sharon – "It's 40 Hours of Love"
Although she has been a volunteer all her life, Sharon says her schedule really amped-up after she retired.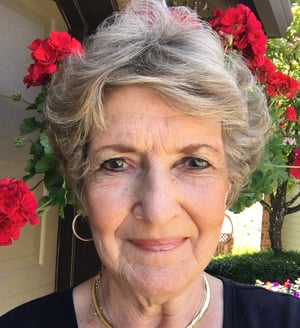 "Retirement hit me like a brick wall," she says. Her husband passed away shortly after she retired and devoted extra time to helping her mother, who lived at Miramont Pointe, a senior living community in Clackamas, Oregon. When her mother passed away at 96, Sharon didn't stop coming to Miramont Pointe. Instead, she increased her volunteer efforts.
"I thought 'what am I going to do when I grow up?' I don't want to just kill time. I want to do something that contributes to the community."
Now, she is busy volunteering almost every day of the week. "On Fridays, I go to Miramont Pointe and host a trivia game that lasts an hour. On Saturdays, I am the caller for the Bingo game for the ladies there. On Tuesdays, I volunteer for a half-day in the pediatric intensive care unit at OHSU (Oregon Health & Sciences University). And on Wednesdays, my daughter is a first-grade teacher, so I help her with the little ones."
Sharon also volunteers at her church pantry for the needy. Yet when asked about a schedule that sounds as busy as a full-time job, she quickly replies, "It's not a 40-hour a week job. It's 40 hours of love."
Both of Sharon's aunts lived at Miramont Pointe before her mother, so she always felt comfortable in the community. "They offer so many things, and that really influenced my decision to volunteer. They really try to make people's lives absolutely the best that they can. There really is a place for everybody and something for everybody to do."
For her part, all of the volunteering keeps Sharon busy, yet she downplays her efforts. Since she lives less than five miles from Miramonte Point, Sharon claims her volunteer work is almost as convenient as it is rewarding.
"I feel very grateful for the opportunity to possibly help somebody who needs help," she says. "I feel like I've been blessed all my life, and I just want to give back."