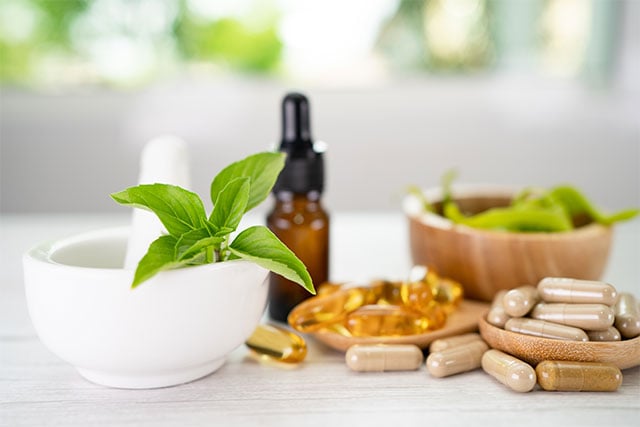 "Seniors may think they need Ensure and other commercial products to get the nutrition they need, but most do not," says Mark Holmes, national director of culinary operations at The Goodman Group. While some older adults do need specific supplements per doctors' orders, the majority of older adults can achieve complete nutrition on their own with a little bit of creative food preparation.
If you're an assisted living resident at one of The Goodman Group's managed senior living communities around the country, you don't have to prepare your own meals. Mark and his team of on-site culinary professionals work to create fully nutritious meals that meet each resident's specific dietary requirements and flavor preferences.
However, if you're an independent senior, Mark says there are easy ways to add calcium, vitamin D, and protein to your meals at home.
Recipes for Boosting Nutrition at Home
To get more calcium and vitamin D, use half-and-half instead of regular or low-fat milk to enrich soups, mashed potatoes, and other foods that can take some extra liquid. Butter also adds calcium. But wait! Butter?
Mark suggests that "when you reach a certain age, worrying about clogged arteries is probably not as important as maintaining a healthy weight or even gaining weight." Many seniors, especially those without a spouse, tend to lose interest in food, so they start to miss meals. This leads to poor nutrition and weight loss, both of which rob the body of fuel to power muscles, joints, and internal organs, including the brain.
So a multivitamin is always good, he believes, but you don't necessarily need liquid boosters. He describes food needs as cyclical, suggesting seniors should "go back to the things your mom used to do when you were a kid to build your health and support growth."
Like what? Well, chocolate pudding is tasty, and making it with half-and-half boosts its nutritional value. Furthermore, "It's not a crime to drink a glass of milk," says Mark with a laugh.
It Doesn't Have to Be Dairy
If you're lactose intolerant, a fairly common condition among older adults, you can add milk products gradually to build up tolerance. Or you can use plant-based proteins instead. Think tofu and beans.
"Tofu blends with anything, and it doesn't add any strange flavors," notes Mark. You can chop or mash it to fortify foods such as spaghetti sauce, and it is also a major source of protein for seniors who prefer a plant-based diet. Older adults can't necessarily tolerate some types of food, sometimes due to chronic disease, so plant-based alternatives can be helpful there, too.
It is easiest to use dairy and tofu to fortify your meals. However, if you can't tolerate either of these, beans are an excellent alternative. They also provide about double the protein value, plus many other important nutrients. Whole beans (cooked dry beans, any variety) add texture as well as vitamins and minerals to soups. Pureed beans are good for thickening, and they are easier to digest because your gut has to use more acid to break down whole beans.
Mark sums it up, "Don't deprive yourself and don't look for gimmicks if you're on a mission to maintain or gain weight. The point is to focus on what you can eat. Eat foods you can tolerate, and eat at reasonable mealtimes."