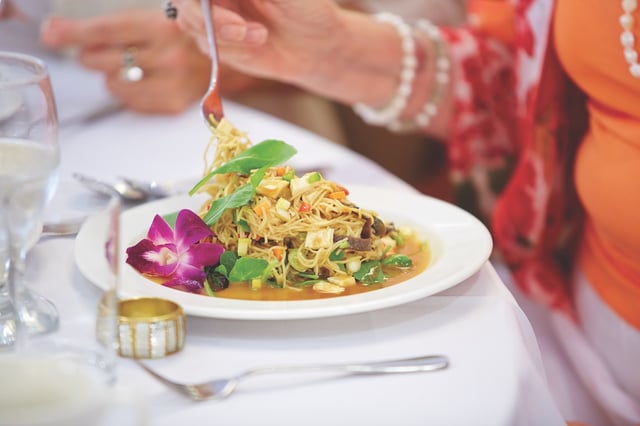 Maintaining a healthy diet is important for all of us. It's doubly important for seniors. As we age, our ability to taste can change, staying hydrated can be a challenge, and convenience sometimes takes precedence over good nutrition. Here are a few simple tips to help seniors maintain a balanced diet.
Add What's Missing
Mark Holmes, our National Director of Culinary Operations at The Goodman Group, says that plant-based foods tend to be missing from the diet of many seniors throughout the United States. By that he means "fresh vegetables, fresh fruit, and ancient grains," he says says. "People tend to continue to eat the food they've always eaten," and Mark encourages seniors to experiment more.
That could mean adding more fresh vegetables to a customary "meat and potatoes" diet, exchanging a whole apple for your usual morning serving of bacon, or adding an afternoon snack of fresh green beans with hummus.
Add Nutrients to Favorite Foods
According to Mark, it's really important for seniors to focus on nutrient-dense foods. These
include fresh fruits and vegetables, as well as prepared foods that contain nutritious ingredients. That doesn't mean you have to make radical changes in your diet. It can be as simple as Mark's advice to "add food to food." For example:
adding almonds or walnuts to homemade cookies

baking oatmeal bars with raisins, dates, or dried cranberries

adding shredded carrots, zucchini, or even beets to a favorite muffin recipe
He also recommends homemade foods whenever possible because there's more ability to determine ingredients. If that's not convenient, you can still enhance prepared foods. For example, adding tofu to canned soup for an extra boost of protein.
Adding Flavor to Foods
As we age, our taste buds change and many of us lose the sense and taste of different flavors. The most common response to that is to add salt. Then, the doctor advises we cut down or even eliminate salt from our diet! In keeping with his recommendation to experiment more, Mark suggests becoming more familiar with and using different herbs. A great suggestion he has is to give your loved one an indoor herb garden for their birthday or other holiday — a gift that is especially delightful coming from a grandchild. It's attractive, fun to tend, and even encourages more at-home cooking. As Mark puts it, it's an "opportunity to bring excitement back to food."
Staying Hydrated
Dehydration can come on quickly for seniors, and that is a huge contributor to falls. So it's very important to stay hydrated. While making sure to drink plenty of water, that's not the only solution. Mark recommends going "back to being a kid" and eating popsicles, Jello, and watermelon. They'll all help maintain hydration.