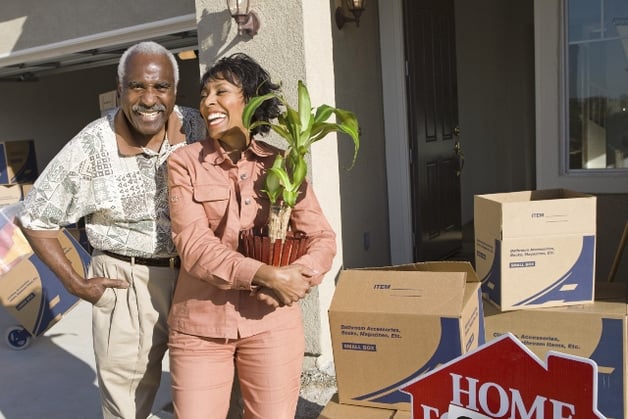 Moving to a senior living community, like any major move or life change, can feel overwhelming, but it doesn't need to be! With the proper planning and perspective, you can feel confident and happy throughout your transition. In fact, many people find that taking this step is the beginning of an exciting new chapter marked by making friends, reducing household chores, and devoting time to doing the activities you enjoy most.
Whether you're working through the details for yourself or a loved one, giving yourself ample time to plan the transition and know what to expect when you arrive are the keys to a successful moving experience. Let's take a look at what you should bear in mind as you look ahead toward this novel change.
Planning the STEPS OF YOUR Move
You will want to consider a number of factors when planning the move to a senior living community. Of course, these will vary based on your individual circumstances, but many of the key aspects to planning a successful and stress-free transition are universal.
Decide What to Pack
Most moves involve downsizing, which means sorting what to keep, what to donate, and what to pass on to other family members. Making these decisions can be challenging, especially when it involves items that hold sentimental value, but it can also be a wonderful way to walk down memory lane and enjoy past moments of your life. It's important to honor those feelings — whether yours or your loved one's — and to be patient with the process. Enjoy looking through photos and mementos from past journeys. You can be thankful for all of the belongings you have owned, but don't be afraid to let things go. Remember, you are making space for new experiences to rush in.
Prepare for Home Showings
If you or your loved one is selling a home, you will likely need to prepare it for showings. You do not need to tackle this project alone. Doing it with others is not only easier, but having help also makes it much more fun. And of course, if you're pressed for time or handiwork isn't your favorite activity, why not hire a cleaning service or a local handyman to help with these tasks? Doing so can free up your time and energy so that you can focus on you or your loved one's other needs.
Move Toward the Future
There are several ways to move out of a house, from the total "do-it-yourself" approach to a full-service mover that will pack, load, transport, and unload. The most significant difference between these options is the cost. Families sometimes choose a middle ground, such as doing the packing and loading, while leaving the move and unloading to professionals. You should do whatever feels right for you and your family.
Getting Settled into Your Community
Introduce Yourself to Others
Once you or your loved one has made the move, now you get to focus on the fun part -- getting to know the community and meeting new people. Communities managed by The Goodman Group are designed to welcome new residents and make them feel at home as quickly as possible. When you arrive, the team and the community will be ready to greet you, but also be sure to introduce yourself and your family to key members of the community. This includes any service and care personnel, as well as other residents. Keeping channels of communication open can help you build long-lasting relationships with others.
Make Mealtimes a Story Hour

Use mealtime as a time to make new friends. A meal is much more than good food; it's also about connection. Everyone has a lifetime of stories, experiences, and adventures to share. Think of it as a story hour where you can tell others about your life and hear all about theirs. You never know where a good meal and hearty conversation might take you!
Find Your Favorite Activities
One of the most rewarding and stimulating aspects of a senior living community is the wide range of activities. When you first arrive, sample them and decide what resonates with you. You might try exercise programming, learning a musical instrument, or if you're feeling especially friendly, why not join the welcoming committee yourself?
In no time at all, all the preparation and planning that went into your move will be in the past, and your new community will feel like home, sweet home.