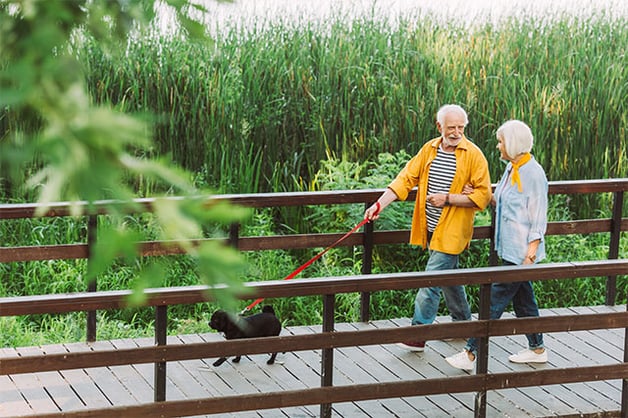 Getting outdoors and enjoying some fresh air is good for the body, mind and soul. Our bodies need sunlight to produce vitamin D, a nutrient used to build and maintain healthy bones. There are many other benefits to spending time outdoors in addition to vitamin D production.
Give the body and mind a break from daily tasks and concerns
Help "reset" the brain for improved focus and attention
Improve mental health
Promote a more active lifestyle
Basically, getting outside is good for your health and outlook at just about any age. So, here are some easy ways to get your parents or loved ones outside to soak up the sun.
PICNICS
When was the last time you enjoyed an old-fashioned picnic? Pack up that wicker basket with a healthy salad or other light summer fare and head to a local park. Or maybe a favorite spot by a lake or a friend's backyard garden. Wherever you go, this is a great activity to share with friends or family members, especially grandchildren.
WALKING
Whether it's a casual stroll around the neighborhood or a hike through the woods, walking has major benefits for seniors. It's a great, low-impact cardio workout and it's a great way to stay in touch with friends and neighbors. In fact, many seniors like to walk with a friend or join a walking group. (Adding a step counter is an easy way to add some technology and some extra motivation to this low-tech activity).
GARDENING
Whether you have a flower garden, vegetable garden, window or container garden or frequent your community garden, all offer the joys and benefits of gardening for seniors. If you tend an acre or just a few flower pots, gardening is a relaxing activity that engages all the senses and connects us to nature.
FARMERS MARKETS
Not only can you enjoy the outdoors, but you can get in a little exercise while you pick out fresh, locally grown vegetables, gather cage-free eggs, or find your favorite preserves. What a great way to gain access to healthy foods! Farmers markets often have weekly schedules throughout the summer. Search online for events in your area–you're likely to find great information concerning hours of operation, vendor offerings, and more!
OUTDOOR YOGA
If you enjoy practicing yoga, consider doing so outdoors! Whether it's self-led or you're attending an outdoor class, getting your yogi on is a great way to soak up the sun while moving your body. If you've never done yoga before, no worries! Consider trying chair yoga to see if this type of movement feels good in your body and adjust your practice from there.
BIRD WATCHING
Whether you're visiting a park or just sitting in the backyard, birdwatching is enjoyable for all ages. Buy a book or download an app and keep track of the kinds of birds you see. Identifying various species is fun, and trying to add to the list might become a reason to schedule an outing.
COMMUNITY EVENTS
Most communities celebrate warmer seasons with a host of gatherings and events. From theater-in-the-park to music concerts to ice cream socials, there's something to enjoy outdoors almost every day. Check out your community's offerings in the local newspaper or see if the local senior center has a listing of events.
Whatever activities you choose to enjoy the outdoors this summer, be sure to take along your favorite sunscreen and a bottle of water. While sunshine is good for you, too much sun can have serious consequences like sunburn and dehydration. Those risks are even more serious for seniors. Stay safe in the sun and enjoy being outdoors!