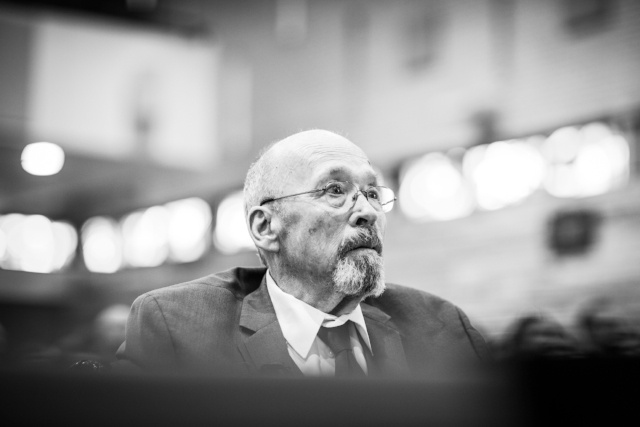 "I would like to thank you from the bottom of my heart for everything you have done for my dad and our family," Matt wrote in a letter to his late father's former senior living community, The Commons on Marice (The Commons). "I can't imagine what the last two years of his life would have been like if it weren't for the care and dignity given to him by staff at The Commons."
In 2016, Matt and his sister Kristin faced the challenging decision of choosing a senior living community for their 74-year-old father David after a doctor's visit revealed a shocking diagnosis. Now, they say the decision changed their dad's life for the better in his final two years.
Here's their story.
Adjusting to Life Alone
In 2013, David lost his wife Susan unexpectedly. Years earlier, she had endured bypass surgery. Despite having a successful surgery, Susan began having trouble breathing. Sadly, she passed away a few days after being brought to the hospital.
Susan handled many of the household responsibilities. When she died, David had a hard time adjusting. Both Matt and Kristin helped teach him the basics of personal and home care, but they saw him declining. "We attributed it to him trying to find his way in the world without my mom," Matt says.
A Doctor's Visit That Changed Everything
On more than one occasion, Matt and Kristin brought David to the doctor with symptoms such as confusion and weakness. It was diagnosed as dehydration, so the doctor adjusted his medication, gave him fluids, and released him.
In October 2016, David was confused and weak again, so Matt and Kristin brought him back to the hospital. When blood test results concerned the doctor, she suggested additional tests to be done. David had cancer. Multiple Myeloma, a treatable but not curable type of cancer that forms in white blood cells, was causing David to feel weak and confused. It also caused renal failure. David needed frequent dialysis treatments and chemotherapy.
"That amount of information and that amount of responsibility hits you like a brick," Matt says. "My sister and I are looking at each other like what are we going to do? Are we going to have him move in with one of us? Are we going to move down to him? Are we going to alternate days? The reality was we just didn't know what to do. We were panicked."
On top of that, due to his condition, David couldn't return home. His doctor said it wasn't safe for him to live alone with his diagnosis, and even living with a family member may not provide the level of care he needed. So, David stayed at a transitional care unit until Matt and Kristin could find him a place to live. It wasn't long before they found The Commons on Marice, one of The Goodman Group's managed communities in Minnesota.
Finding Home at The Commons on Marice
"One thing we really liked about The Commons on Marice was it didn't look like a typical nursing home," Matt says. "That was huge to us. It looked like an apartment building. And there was staff everywhere, which was very encouraging."
David also thought it was nice, although he was upset about having to leave his home. "We tried to sell him on the amenities, socialization, and care," Matt says.
Ultimately, they took the leap and moved David into The Commons, where staff helped with his care. He had a driver to take him to dialysis appointments on Mondays, Wednesdays, and Fridays, and Matt took him to chemotherapy Tuesdays and Thursdays.
Flourishing Under the Care of Great Staff
Soon, David was flourishing in his new environment. He took advantage of the many special events happening at The Commons. His favorite was the 3 p.m. happy hour on Thursday, although he sometimes had to miss it for appointments. "He would get really upset if he missed happy hour," Matt says. "He loved going to happy hour. He'd call his friends (who still lived at home) to come over, sit, laugh, and chat. I think it gave him a sense of normalcy."
And many of the staff members were incredible, Matt says. "The socialization and attention he was able to get from staff and residents alike filled a great hole that had been left in his life when my mom passed away five years ago," Matt wrote in his letter to The Commons staff. "Although he was sick when he moved in, he acted more alive than I had seen from him in years."
David often called his kids to tell them funny stories he and staff members shared. "My dad was kind of a smart aleck and he liked to mess with people. Every now and then, you'd find a couple of staff members that had the same sense of humor. They'd come in swinging right away and get him laughing and riled up." Those phone calls meant a lot to Matt and Kristin. "It provided a sense of peace for us when they were there to be with him," Matt says.
In June 2018, one staff member, Brooke, even helped Matt and his wife Emily reveal the gender of their baby, David's first grandchild, to David without spoiling the surprise for the couple. By then, David was in hospice and wasn't talking. "My wife and I didn't know the gender and we didn't want to know," Matt says. "We wanted him to know. Brooke took the sealed envelope, showed the sonogram to my dad and talked to him about it, then put the sonogram in a new, sealed envelope and gave it back to us. She was very honored and happy to do it. It was very special to us. My dad just smiled. We knew he knew."
David passed away a few days later, almost two years after moving into The Commons on Marice.
"I can't tell you how happy it made me as his son knowing that not only was my dad doing well but that he was doing well and enjoying himself," Matt wrote in his letter. "Thank you for everything!"