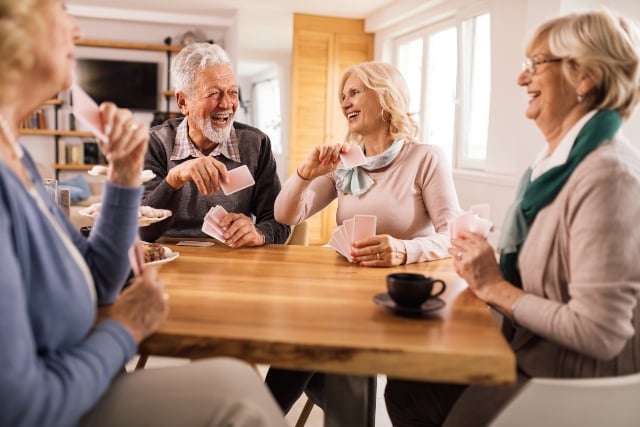 Moving into a new place always comes with a mix of emotions—excitement, nervousness, and the hope that you will feel happy and at home in your new community. The Goodman Group has more than 50 years of experience welcoming residents into managed senior living and health care communities and has drawn on that knowledge to create a move-in experience that builds trust and promotes a deep sense of community from day one onward.
We spoke to Katie W., national director of life enrichment for The Goodman Group, about what residents can expect when they move into their new community.
ABOUT OUR APPROACH: "HAPPY YOU'RE HERE"
"We use the phrase, 'happy you're here' to represent all aspects of a new resident's arrival," says Katie. "Because that's genuinely our approach. We are happy you're here, and we want you to be happy you're here."
Standardizing and ensuring a smooth transition has been a long-time goal for communities managed by The Goodman Group, and it begins with making sure that people introduce themselves to the new resident, from leadership to the team members who will be supporting them. Katie explains, "The managed communities want to make sure that the new resident feels connected to the team and other residents, and immediately feel that sense of belonging and welcoming in their new home."
"Team members and residents wear name tags," says Katie. "It's a simple thing, but it means so much to be able to call neighbors by their names."
RESIDENT AMBASSADORS PLAY A CRITICAL ROLE
No one can welcome a new resident better than someone who's already well-established in the community. That's why the Resident Ambassadors program is such a key piece in the welcome experience. Resident Ambassadors are friendly, outgoing, resident volunteers who want to help new residents become acclimated to their new community. This program exists in all communities managed by The Goodman Group. Resident ambassadors not only greet new residents at the door on the day they arrive and show them around as they get settled in, but they are also available to answer their questions, show new residents ways to get involved, and enjoy meals together.
"It's so important for new residents to have a neighbor they can look to and lean on," says Katie. "Resident ambassadors are leaders in the community. It's a fun way for residents to become involved and set the tone for the welcoming community environment that they take so much pride in."
A WELCOMING ENVIRONMENT AND PERSONALIZED EXPERIENCE
Every new resident has a lifetime of experiences and interests, and sharing this information with the rest of the community is a great way to build relationships with other residents. "The communities create welcome signs with information about new residents," Katie says. "The communities also include introductions in the newsletters. These might say, 'I was a teacher' or 'I'm a veteran,' and that helps to start conversations and create that sense of community."
At communities managed by The Goodman Group, team members are always looking for ways to make sure residents feel happy, welcomed, and excited about the transition to their new home If you have any questions or would like to schedule a tour at a community managed by The Goodman Group, please feel free to reach out. We'd love to hear from you.