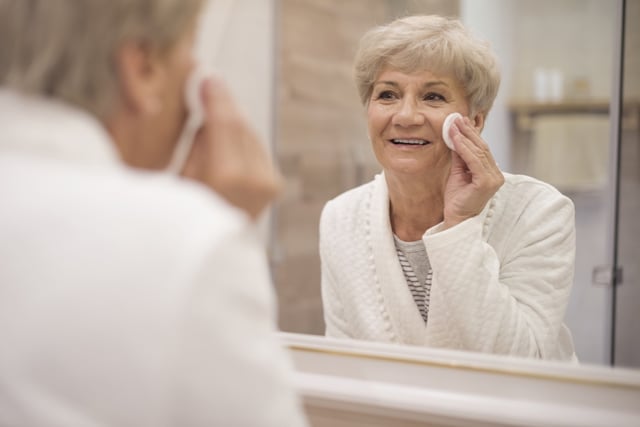 If you're concerned about home safety for seniors, it makes sense to start with the bathroom. Loose rugs, water on the floor, and getting in and out of the tub or shower can all pose risks, so you should begin with these basic precautions:
Remove throw rugs, which present a tripping hazard

Use non-slip mats or decals in bathtubs, showers, and on tile

Install grab bars, especially near the toilet, bath, and shower

Make sure the floor is clear of any obstacles that could cause a fall
These are all excellent first steps. Dee, The Goodman Group's National Director of Rehabilitation Services, also suggests adopting some little-known tips related to lighting and depth perception to make their bathroom even safer.
Visibility and Balance
Of course it makes sense to have good lighting on the way to the bathroom and in the bathroom itself. However, Dee points out that even with good lighting, "A lot of people don't turn on the light when they get up to go to the bathroom at night."Not only is turning on a light a matter of seeing, it's a matter of balance. "Visual cues are important for stability. If you don't see well, your equilibrium is much worse." If your balance is off, that's when accidents can happen—bumping into something, tripping, or even falling.
"If you're not going to turn on the light, use a motion sensor light," Dee recommends. It's a simple, yet effective solution for nighttime visits to the bathroom. A toilet light is a battery-operated, motion-sensing light that hangs on the side of the toilet. It activates when you walk in the bathroom and illuminates the toilet. Lights come in a rainbow of colors and are available at hardware and home-improvement stores, as well as online, for under $15.00.
"It's a simple thing," Dee says, "but it can go a long way to helping someone not bump into the toilet or miss it."
Depth Perception and the Color of Your Toilet Seat
A CDC study found that for aging adults, it was more likely for an injury or fall to occur while sitting down, getting up, or using the toilet than an injury in the shower or bathtub. It may be a surprise to learn that the color of your toilet seat can actually guard against that possibility, but it's true. Darker seats are easier to see because the contrast between the dark seat and the lighter bowl helps with depth perception. "If you start losing your vision, if you have a dark toilet seat, you'll be able to see the contrast between a black [toilet seat] and white [bowl] better," Dee told us.
For someone with dementia, this can be especially important. This home improvement can actually help your loved one recalls an earlier time in their life, when most toilets were white with black seats. Accessing that early memory can help orient the person and prevent injury.