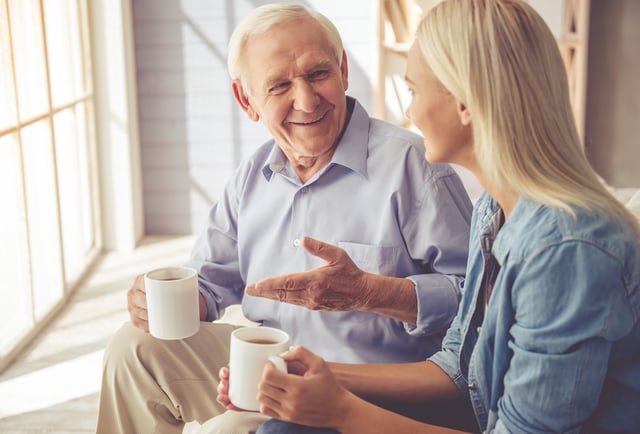 "I remember years ago my grandfather telling me things that were happening in his life and I kept telling him that I understood," says Tina Vauthier, Executive Director at Westpark Village, a senior living community in Billings, Montana. "He looked at me and said, 'Honey, you have never walked in my shoes before, but I have walked in yours.' He was right. As much as I wanted to understand, I had not been through it before and I needed to be empathetic to him."
As our loved ones grow older and experience life's changes, it's important to take into account their perspectives and communicate freely with them on topics like health, housing, or finances. Remember, even if you are comfortable discussing these topics and feel like you understand mom and dad, it may be uncomfortable or even frustrating for them since you have not yet faced this life experience.
Make Important Decisions
Making decisions that elicit change can be intimidating, but it is important to have these conversations and maintain open communication throughout the entire process. "You have to give them information and help guide them," said Tina. "Let them participate in the decision making process."
One of the most important decisions that older adults face is determining the right time to leave their home and move into a senior living community. Wendy Wells, daughter of a Terracina Grand resident, recommends having conversations early, when your parents are still able to decide what type of community would be a perfect fit for them. "Let it be their decision," said Wendy. "Get them thinking about it while they're still able to make those choices."
Tips for Connecting
Your family is a team that should be working together in everyone's best interests, especially when one or more of the members is going through a natural but difficult change. While every family is uniq
ue, here are some tips that may help strengthen your family bonds:
Have patience and be empathetic to how your loved one may be feeling.

Be an active listener so that you truly hear them, and also let them know they have been heard. Stress that no conversation is off limits.

Build trust by advocating for them.

Be consistent – call or check in regularly to let them know they have a strong support system.
Form Better Relationships
Open communication is the catalyst for better relationships. While you may only know mom and dad as parents, take the time to get to know them outside of that role. Initiate discussions on their past, present and future.
Clare Strohman, daughter of another Terracina Grand resident, feels that better conversations with her mom have created a happier relationship. "There is more friendship now. We had previously lost that. There was nothing to look forward to or laugh about," said Clare. "Now there is more happiness, more joyful times. She is more like the mom that I grew up with."
Whatever the life event, keep these tips in mind when approaching conversations with your aging parents.