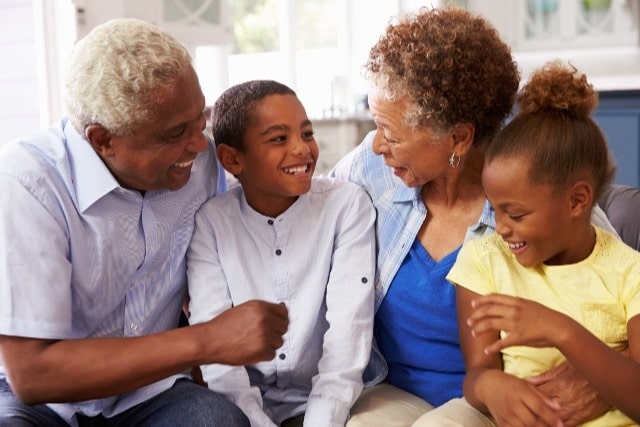 Visiting grandparents can be an opportunity for grandkids to learn about their family history and form fond memories. For the seniors receiving the visitors, it can foster feelings of love and connectedness. Preparing for the time that you and your family will spend with your loved one will help make a successful visit. This might be the first time you or your child has visited their grandparent since moving into a senior living community so it's helpful to set some expectations for how the visit will go.

1. Make a plan for your visit
Talk to your senior loved one and the team members at the senior living community about what kind of visit you would like to have. Consider what your loved one likes to do. Some activities to consider include going for a walk, enjoying a meal together, playing games, watching TV, chatting, or listening to music.

Music has an incredible impact on our brains

and can help transport people to other places and times via memories that are not always easily accessed. Playing a favorite song for a grandparent and then asking them what it reminds them of is a good way to jog memories and inspire unique conversations.

2. Talk to your kids beforehand about your visit and bring activities
Kids' energy is contiguous. This energy will likely brighten your loved one's day, and make for a meaningful visit. If your loved one has hearing or memory loss, it may be helpful to talk to your child about what this means and how they might see it affecting their grandparent.
It's always a great idea to bring child-friendly activities along during the visit. After all, grandparents love doing activities with their grandchildren! Puzzles, arts and crafts, or picture books are all excellent choices.
3. Respect your parent's routines
Although dropping by after work or school might fit best with your schedule, be cognizant of your loved one's routine and pick a time to visit that works well for them.
A good option is to share a meal together! You can join them for lunch in the dining room when they normally eat, reserve a special room for your visit, dine together outside, or eat in their private residence.
4. Bring photos and stories from when your parent was younger
This will help them feel connected to their past and remind them of good times. You can share stories about holiday memories, trips, weddings, or other big events. Talking with your parents about these special times can help you, and their grandchildren, see these events from a new perspective.
5. Give yourself plenty of time
A good visit shouldn't feel rushed. Make sure you have plenty of time to share with your loved one, talk about life updates, and stories, and enjoy each other's company. If you are constrained for time, let them know when you will have to leave so they can make sure to get in all the things they absolutely want to during the visit.
If you are visiting someone who is affected by memory loss, allowing plenty of time for visits is extra important. Scheduling enough time will help your loved one feel at ease and it's nice to be able to be flexible so you can adjust based on how they are doing that day. Remember that it's important to communicate during your visit about how your loved one is feeling. Listen to them and adjust the visit accordingly.
Amenities That Make Visiting Easier
Some senior living communities have special spaces and amenities designed to make intergenerational visits easier. For example, The Inn on Westport in Sioux Falls, South Dakota, and The Commons on Marice in Eagan, Minnesota, both have play areas, toys, and books for little ones to keep them entertained. When you plan a visit to your loved one, ask the team members in their senior living community if there are similar things available.
Visiting on a regular basis is a great way to stay connected with your loved one. This gives you something to look forward to and helps them feel loved and cared for. You may find that these visits become special days on your calendar that you all can cherish.