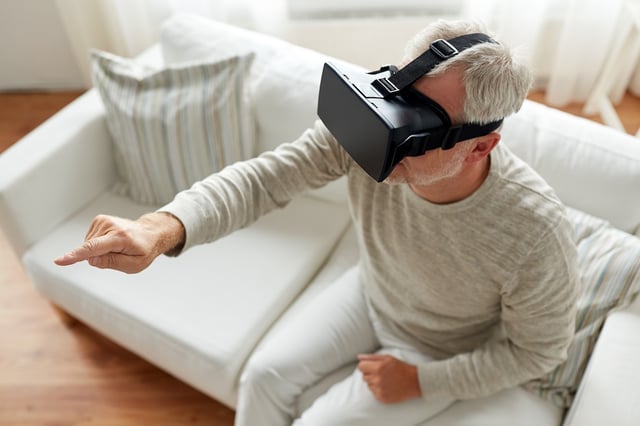 Smartphones, WiFi-connected homes, self-parking — even driverless cars. Technology is making an impact on every part of our lives, including health and exercise. For seniors, that's good news. New technologies are making it even easier and more enjoyable for seniors to stay on track with fitness goals. Even better, technology offers new ways to measure fitness and help prevent falls, the most common cause of injuries in seniors. These technologies are being used more and more in senior living communities like those developed and managed by The Goodman Group.
Testing for Strength and Flexibility
Standardized tests help monitor seniors' strength and flexibility, which are reliable markers for predicting the risk of a fall.
Dee, Director for Physical and Occupational Therapy at The Goodman Group explains: "We do a lot of research. There's a test called the Timed Up and Go (TUG) that we measure quarterly. There's another called the Functional Reach that measures how far you can reach before you lose your balance."
Together, these two tests track seniors' functional fitness levels. Changes like a slower TUG or shorter reach can indicate a greater risk for a fall.
New Technologies
New technologies are able to actually collect more data on how a person moves. "There's a lot of technology that is really changing how we work," Dee says. "It makes exercise more fun and more measurable." Sensors can measure more sophisticated movements like how deep a person is able to squat.
Wii Video Game Console
The Goodman Group uses Wii, a Nintendo video game console with a controller that detects movements in 3D, in both its therapy areas and for general exercise. "The fun thing is you can incorporate it with two people, so you can have a little competition. It's very popular." Residents especially love the bowling and tennis programs. Still, Wii is just the beginning of the possibilities that lie ahead.
Virtual Reality
Virtual Reality (VR) is next in line to revolutionize senior exercise. New programs as simple as walking through a landscape projected on a TV screen have shown some remarkable results.
A recent study reported by Wired showed a 42% reduction in senior falls after they trained using a treadmill combined with VR. The VR projected participants' feet onto a screen in front of the treadmill. It then presented real-life obstacles that the participant had to step over as part of the training to increase balance and strength.
Virtual Reality is also being used to enhance senior lives. It's been shown to be effective as a tool for relaxation, helping prevent dementia, and increasing social connections, as well as making exercising more fun.