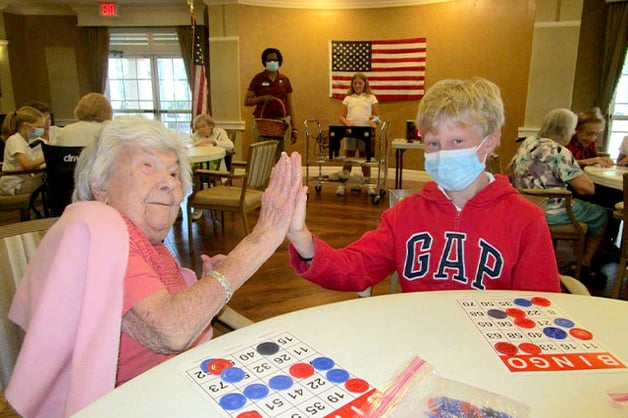 Driven by a sense of purpose, a commitment to service, and a desire to enrich lives – volunteering offers a range of benefits – not only for those served, but also for one's own happiness and well-being. Communities managed by The Goodman Group are extremely grateful for the many contributions our volunteers make every day.
We spoke with Tina V., Regional Director of Life Enrichment at The Goodman Group, about volunteering opportunities she has seen over the years. From the outside community members like church groups and school coming in to residents supporting each other, the range of opportunities for community involvement are endless.
Personal Volunteer Opportunities
If you are interested in volunteering yourself, a senior living or memory care community may be a great place to get you started.
Kids Building Community
One notable volunteering example Tina shared came from Seacrest Country Day School. "Students from the local elementary school set out to write biographies on some of the residents," explained Tina. "After gathering a group of interested participants, the students and residents met." The student and resident pairing would spend a few hours each week together. Over food and drinks, the residents shared their life stories with their students.
Over a few gatherings, the students gathered enough information on the resident's life to construct a biography, which they later presented to their paired residents at the end of the project. This had an immense impact on both the residents and volunteering students.
Art is another excellent volunteer activity that can be done within senior living communities. At Gardens at Terracina Health & Rehabilitation, a group of children participated in painting a large canvas with residents. The piece was composed entirely of abstract painting, with the residents and children building off of one another's creative additions.
"We got out this great big canvas," said Tina, "laid out a bunch of art supplies, and let the residents and kids have creative freedom to make an abstract piece of art that worked off of one another. It was very creative and wonderful to see that they enjoyed each other's company."
Individual Volunteering
Group activities are not the only ways to get involved within a senior living community or memory care community. Often times, communities welcome people interested in playing games with residents, reading, sharing a special skill like singing or performing a dance, or even simply spending quality time with them.
"I love it when people from the outside community volunteer with the memory care residents," shared Tina. "It breaks down the stigma surrounding memory care and shows volunteers how great the residents' quality of life is. It's really very powerful for volunteers to see that residents are living very normal lives here."
Residential Volunteer Opportunities
In turn, residents at communities managed by The Goodman Group often find ways to give back to the greater community. Moving into a senior living community often allows residents to pursue life passions and work alongside other service-oriented peers and team members on community service initiatives.
Many residents have spent most of their adult lives volunteering in schools, shelters, community events, and more.
"Volunteering can be really important for residents because most of their lives, they've done some type of volunteering," said Tina. "As an organization, we try to support our residents in being able to do those things, and we find opportunities for them. If they don't want to go out into the greater communities, our residents are welcome to volunteer within our own communities."
The Goodman Group provides opportunities for residents to continue to interact within their senior and greater community. Some examples of how residents give back to the community include:
Making dog treats and blankets for animals in local animal humane societies.
Shower to Empower - a baking club where residents sell their baked goods to collect money to spend on toiletries to donate to the homeless.
Random Acts of Kindness Group - a group who preps meals for EMTs, Police, and Firefighters.
Santa's Helpers - residents at Cypress Palms respond to children's "

Dear Santa

" letters during the holiday season.
Friendly Neighbors
Residents even volunteer within their own community. One group called "The Friendly Neighbors", from a community in Naples, FL, gets together monthly to find ways to engage with the memory care residents who live on their shared campus.
"They volunteer in there and help their residents with different projects," said Tina. "They might do crafts, baking, or they even may go out into the garden with them. They also go over to the skilled nursing home, and they help to support the residents who live there."
The Friendly Neighbors also do acts of good service within their own community. When a new resident moves into the community, the group goes and visits them.
"Moving into a community can be an adjustment" ," Tina explained. "Sometimes, there is that sense of intimidation. So the Friendly Neighbors go to new resident's apartments and sit and visit with them and help them feel welcome."
The Friendly Neighbors, as well as the many supportive team members and other volunteers at communities managed by The Goodman Group are committed to building community within their greater community. You can do the same. We encourage you to try volunteering at your local senior living community, and don't hesitate to reach out if you have any questions.