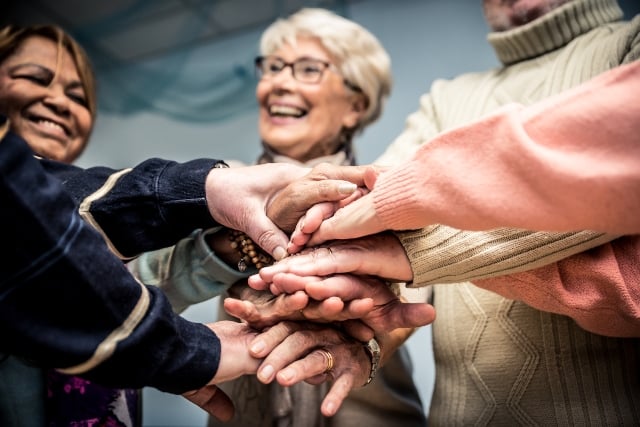 Living our days filled with a sense of purpose -- caring deeply about a goal or objective, usually in service of others -- feels good at any time in our lives. Research has shown that having a sense of purpose in life can improve our mood and outlook. Additionally, feelings of purpose also lend significant health benefits, especially as we age. A 2016 study found that living with purpose improves cognitive functioning. A 2015 study linked higher feelings of purpose with lower levels of stress.
We spoke to several team members at communities managed by The Goodman Group about how residents work together to support their local communities. In a time when senior isolation and loneliness have been rising, these activities offer ideas for how seniors and older adults can remain connected to their greater communities and find purpose through serving others -- whether they are near or far.
DONATING BLANKETS TO PROVIDE COMFORT
Blankets not only provide great warmth and a sense of security, they can also be made in a variety of styles and sizes to accommodate the skill level of the creator and the needs of beneficiaries. Talented quilters may desire to create elaborate patchworks of art that can be donated or even raffled to raise funds for a cause. Alternatively, hand-tied blankets made of fleece are a simple and soothing exercise for older hands and can be enjoyed by hospitals, homeless shelters, or animal shelters.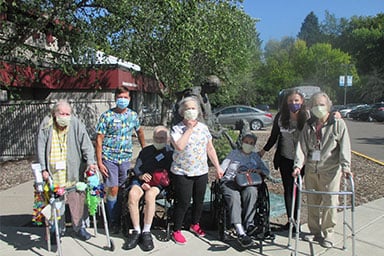 Bridget J., life enrichment coordinator at Chandler Place in St. Anthony, MN, a community managed by The Goodman Group, recalled a recent project where residents came together to create blankets for the local Animal Humane Society. "One of our residents has a cat that she really loves," said Bridget. "So she and a group of other residents decided to create kennel-sized blankets for other animals. Then we used the community van on an outing to go deliver them."
The group ended up with nearly a dozen completed blankets to donate to the shelter. "Our residents felt a sense of accomplishment having these blankets to deliver," said Bridget. "Life doesn't stop! They're always finding new ways to give back."
CREATING GRATITUDE CARE PACKAGES AND GIFT BAGS
Senior groups across The Goodman Group's managed communities have assembled many gift bags and care packages to show appreciation for the work being done across the greater community. Residents at Cypress Palms at The Palms of Largo campus, located in Largo, FL, hosted Patriot Day this year, and delivered cookies to the Largo Police and Fire Department in honor of 9/11. Jessica B., life enrichment director at Cypress Palms explained, "Service becomes part of the lifestyle. It's something everyone can participate in."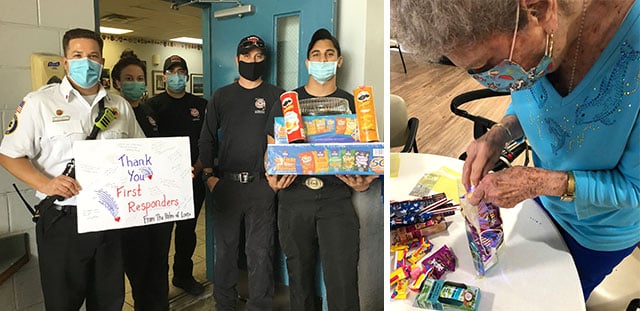 "We recently assembled goodie bags for first responders," Bridget explained, speaking of another resident initiative at Chandler Place. Residents filled gift bags with baked cookies and popcorn, to be given to local firefighters and police officers. Char A., valiant veterans coordinator at Chandler Place, assembled and delivered care packages for local law enforcement and police officers filled with water, granola bars, chips, and other snacks. "To complete the gift bags and packages, we made labels that said 'Thank you for your service,'" said Bridget.
Briana W., spiritual care director at Cypress Palms, discussed a gratitude service project completed in their community. "We made sugar scrubs for the nursing staff, as well as over a hundred handmade cards that got sent out to thank the volunteers who visit our communities."
Residents have made similar care packages for Teacher Appreciation Day to celebrate teachers, assembling toiletry items for shelters and non-profits, and a variety of other initiatives.
"The range of possibilities is endless," Briana explained.
SHARING SKILLS AND INDIVIDUAL'S UNIQUE GIFTS
Every person has unique skills and interests, and having the opportunity to share these gifts can be extremely rewarding. When planning service activities, Bridget looks for ways to engage each resident's unique talents. "I have a resident who's an artist who taught a painting class for the community," Bridget said. "Another resident used to cook and gave a cooking demo. The stories and life experiences of our residents are fascinating. There's always knowledge to share."
Additionally, collaborations with non-profit partners or organizations can be another way to fit a senior's interest with an appropriate service activity. "There are so many various non-profit partners to form collaborations," Bridget said. "For the residents who like to craft, we've discussed making healing bracelets for a hospital. We have knitters and crocheters who make scarves and would like to make baby hats in the near future."
Team members and residents at Chandler Place are exploring a collaboration with Habitat for Humanity. "I have a few residents who always loved tinkering in their garage and repairing things," Bridget said. "They still have that curiosity in them."
COMMUNITY SERVICE BENEFITS ALL OF US
Community service events and activities offer times and places where residents and team members join together to plan projects and make a difference. Doing so doesn't just benefit the wider community, it also motivates individuals and helps them maintain the sense of purpose that all humans desire and need.
"It's a huge impact," Jessica explained. "It starts with the residents and ends with those who are receiving their service. Residents know they're doing something for the community -- and for themselves."