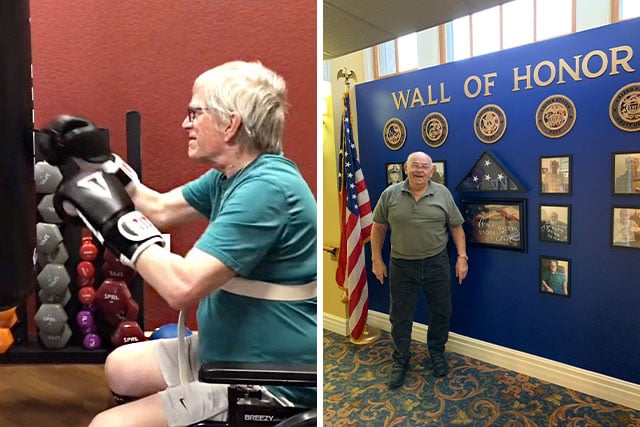 As summer draws to a close and on the heels of Labor Day, we're taking a moment to celebrate the labors and contributions of our managed communities—residents, team members, volunteers as well as family members, friends, and trusted partners who make the work we do so special. We want to showcase just a few of the past and present experiences of residents, and to express our gratitude for their service.
Protecting Our Freedom
Communities managed by The Goodman Group honor veteran residents through a dedicated program called Valiant Veterans®. While each program looks a little different depending on the community, all are formed around the belief that appreciation to our veteran residents should be lived every day, not just uttered once or twice a year. Valiant Veterans® participants have remained active within their communities in a multitude of ways—supporting other veterans living with limited mobility and memory issues, organizing brunches with special speakers, and even participating in sending-off and welcoming-home activities for service members.
"One service member that attended a send-off party a couple years ago was 18 years old and just enlisted," said one organizer after a Valiant Veterans® event. "He had just received his first deployment papers. He couldn't thank us enough that there were people out there that think about them. The ability for our veterans to share and talk to these younger ones is just amazing. They have so much knowledge to share."
Continuing To Teach and Inspire Us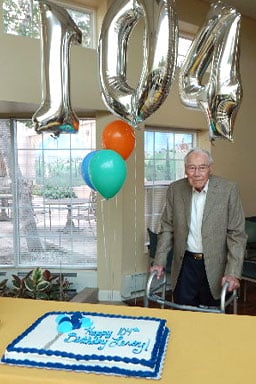 There are few people who touch lives in such a real way as the teachers and educators among us. Many residents devoted their entire careers to education and teaching fields. For example, as of January 2018, the oldest resident at The Commons on Marice was 104-year-old LeRoy, who had worked as a teacher at St. Thomas Academy in St. Paul, MN. Those years in the classroom still brought a cheerful expression to his face. In addition to his sharp mind, he still made a point to stay active, walking two laps around the senior living community in Eagan, MN, every single day. Through his example, he continued to inspire those around him to stay healthy and active and to never stop learning.
Keeping Us Healthy and Informed
As a senior living and health care organization, The Goodman Group is deeply thankful for the work of health care professionals—from current team members, nurses, and therapists in charge of daily caregiving at the managed communities to residents who spent their careers in these fields.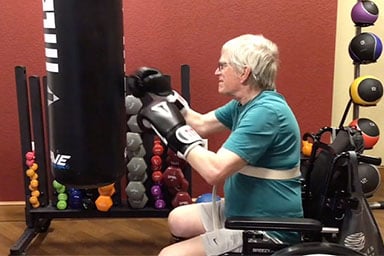 For example, Tom was a former Ear, Nose, and Throat (ENT) specialist before receiving a Parkinson's diagnosis that left him wheelchair-bound. Never one to slow down, he became a regular participant of Rock Steady Boxing classes at The Lakes at Stillwater, a senior living campus located in Stillwater, MN, managed by The Goodman Group. The classes are an affiliate program of Rock Steady Boxing, Inc. Just six months after working hard in the program, he noticed a remarkable improvement—even being able to stand for sessions on occasion.
Just as he devoted his career to healing others, he is now an advocate and lives as an example of how regular exercise and commitment can allow you to thrive, no matter your age or diagnosis.
In the words of his wife, Pat, "He's a former physician, so he's a perfectionist," she says. "He's so smart, witty, and 'with it.' He's also a real athlete, and he wants to be treated like one."
Paying it Forward Through Service
In addition to honoring their past careers, residents continue to stay active and involved in many kinds of community engagement initiatives. Residents continue to give back—from raising funds for local causes to writing Santa letters for neighborhood children.
There are ways to be involved outside the community, as well as within the walls of the community. Like June, a lifetime organizer who is active in the Resident Ambassadors program at The Residence at Timber Pines in Spring Hill, FL. Resident Ambassadors play a special role by welcoming newcomers to the community, helping them settle in, and getting them acclimated to their new living situation.
In June's words, "I'm an organizer. Busybody is probably what you'd call it. If I see a need, I'm liable to step in and fill that need."
At communities managed by The Goodman Group, we are constantly amazed at the breadth and depth of experiences and stories residents offer to one another.